St. Cloud Cathedral rallied in the second half to defeat the Bulldogs boys' basketball team 57-54 on Friday night.

The Crusaders outscored the Dogs 16-12 in a back-and-forth fourth quarter that featured five lead changes and two ties.

Catheral took the lead for good midway through the fourth quarter 50-48 and added a free throw and three-pointer to lead 54-49 with two minutes to play. The Dogs trailed 54-51 in the final minute until the Crusaders made three free throws to seemingly seal the win.

But sophomore Ben Moser, who led the Dogs with 23 points, made his fourth three-pointer with less than 10 seconds to play and stole the Cathedral inbounds pass around midcourt with two seconds left. He passed to sophomore Mike Houske at the top of the key for a try at a game-tying three-pointer, but the buzzer sounded before Houske could shoot.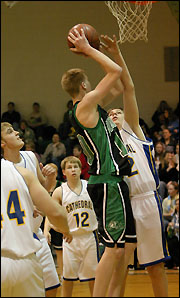 "It was a hard battle, and we played well," said coach Phil Carlson. "Defensively, we stopped them inside and controlled the boards and we did not turn it over in bunches."
Sophomore Ben Moser goes up for two of his 23 points against the Crusaders on Friday. Despite an injured ankle, he made four treys.
"We were missing a key player due to illness (junior captain Derek Stanger). The extra legs would have been nice in the second half," added Carlson. "We did get some good looks and chances on the free-throw line to win, but we fell short this time. It was a great game and we are hungry for more."
The Dogs jumped to a 6-0 lead with Moser and sophomore Cory Nietfeld making back-to-back three-pointers to start the scoring. The Dogs never trailed in the first half. Cathedral, though, hit a jumper at the buzzer to make the score 32-23 at the half.
The Crusaders used a 15-6 run to tie the game at 38-38 with two minutes to play in the third quarter. The Dogs quickly regained the lead 42-41 with a fast-break layup by Moser and a 15-foot jumper at the buzzer by junior Mark Andrie, who added nine points.
In the first three and a half minutes of the fourth quarter, there were five lead changes and two ties. Junior Trent Hansen gave the Dogs a 44-43 lead with a fastbreak layup with seven minutes to play, and Moser, playing on an injured ankle, hit an 18-footer with five minutes to go to give the Dogs their last lead at 48-46. Cathedral proceeded to tie the game and then take a 48-46 lead with four and a half minutes to play.
The Dogs made seven three-pointers, including five in the first half, but they shot only 63 percent from the free-throw line (14/22) while Cathedral shot 80 percent from the charity stripe (9/11).
The Dogs had beaten Cathedral in three of their previous four games, splitting with the Crusaders in 2003-04 and sweeping them in 2002-03. The two teams will play again in St. Cloud in early February.
The Dogs (0-3 in the WCC North and 2-7 overall) hosted NL-S on Monday night in a nonconference game. They will also host Eden Valley-Watkins on Saturday in another nonconfernce game. Next week, they will travel to Long Prairie for a conference game against LPGE on Monday, Jan. 24.
| | | | | | |
| --- | --- | --- | --- | --- | --- |
| Cathedral-- | 8 | 15 | 18 | 16 | - 57 |
| Paynesville-- | 12 | 20 | 10 | 12 | - 54 |
SCORING: (FG-FT/FTA-PTS)
St. Cloud Cathedral 57 - Jamie Christenson 6-0/0-14; Nate Berg 3-5/6-12; Tyler Hagen 5-1/2-11; Glenn Carnehan 3-2/2-8; Ryan Wimmer 3-1/1-7; Joe Niehoff 2-0/0-5; TOTALS: FG 22, FT 9/11, 3's 4.
Paynesville 54 - Ben Moser 8-3/3-23; Mark Andrie 3-2/2-9; Cory Nietfeld 3-2/7-9; Trent Hansen 1-3/4-5; Aaron Braun 1-2/4-4; Mike Houske 1-1/2-4; TOTALS: FG 17, FT 14/22, 3's 7.
STATISTICS: 3-pointers - 7 Moser 4; Andrie 1; Houske 1; Nietfeld 1; Rebounds - 31 Braun 8; Moser 8; Nietfeld 7; Hansen 5; Assists - 13 Nietfeld 7; Steals - 7 Hansen 3; Blocks - 1.
---
Contact the author at editor@paynesvillepress.com • Return to Sports
Home | Marketplace | Community
---