Cheerleaders win first place at Farmington
This article submitted on 8/4/99.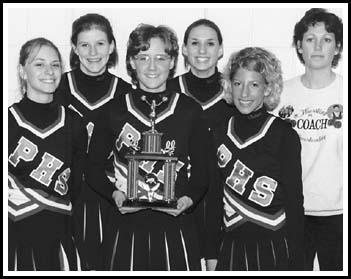 The wrestling cheerleaders placed first among 12 teams as the outstanding cheerleading squad at the Farmington tournament on Saturday, Jan.8. The girls were judged on overall appearance, motion technique, jumps, stunting, and voice clarification.

"The girls were pretty excited," said coach Cindy Fuchs of their win.

Cheerleaders are: Kelly Schultz, Steph Thomsen, Krista Kotschevar, Sara Hittle, Chelsea Hartmann, and coach Cindy Fuchs.
---