Junior Ben Moser set a new school record with seven three-pointers, and scored 35 points, as the Bulldogs boys' basketball team beat the Minnewaska Lakers 91-78 on Friday in a fast-paced game.

Moser, a 6' 7" junior, made seven treys to break the school record and led all scorers with 35 points. He scored 18 of the Dogs' first 24 points, including four treys, and led the Dogs with 23 points in the first half.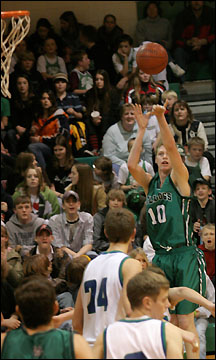 The first half, though, was a back-and-forth affair, with numerous ties and lead changes and fast-paced action. The Dogs appeared to be heading to the lockerroom trailing 45-44 after senior post Aaron Braun made a free throw with six seconds left in the half, but junior Elliott Wall stole the ball after a Lakers rebound and fed junior Cory Nietfeld for a layup and 46-45 lead.
Junior Ben Moser broke the school record for most three-pointers in one game with seven bombs on Friday against Minnewaska. He led the Dogs with 35 points, including 18 of their first 24 to start the game, in their 91-78 victory. The previous single-game three-pointer record was six.
In the second half, the two teams traded the first 12 points. With the Dogs leading 52-51 two minutes into the second half, Nietfeld and Moser hit three-pointers on back-to-back possessions, starting a 17-2 run for the Dogs over the next three minutes. The Dogs built a 69-53 lead with 12 minutes to play.
Minnewaska cut the Dogs' lead below ten points only four times the rest of the way, and only once got as close as seven points, at 81-74. The Lakers had a chance to get within five points but missed two free throws - making only 4 of 14 for the game - with Nietfeld making two free throws and then feeding senior Mark Andrie for a 15-foot jumper to regain an 11-point lead at 85-74.
The last time the Lakers got within ten points was with just over two minutes to play at 85-76, but Moser made two free throws in response, and the Dogs outscored the Lakers 6-2 the rest of the way to record their second conference win.
Moser, with 35 points, led the Dogs in scoring. His seven three-pointers - the last coming with 13 minutes to play as part of that 17-2 run - broke the school record for most three-pointers in a single game. This record was previously held by Ryan Carstens, who made six against Long Prairie in 1992-93 and six against Rocori in 1993-94.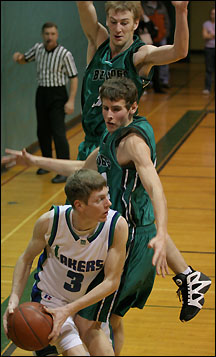 The Bulldogs, as a team, came close to breaking several other school records. The school record for most points in a game is 102 against Belgrade in 1955-56. The Dogs had 81 points with five and a half minutes to go (a pace to score 96 points) but finished with 91. The Dogs also had 21 steals (the school record is 23 set in 1974-75) and 20 assists (the school record is 26 set in 1981-82).
Junior Elliott Wall and senior Derek Stanger put defensive pressure on a Minnewaska player in the backcourt on Friday night as the Dogs won 91-78.
The Dogs also shot 67 percent from the floor (34 of 51, including eight of 15 on three-pointers). No school records are kept for highest shooting percentage by a team in an individual game.
"Our passing was much improved, and this helped lead to good shots, and we shot well," said coach Phil Carlson. "Moser and Nietfeld scored big for us, but the keys for his win was our teamwork (20 assists)."
Nietfeld added 26 points, 14 rebounds, six assists, and six steals for the Dogs. Senior Derek Stanger had 12 points. Senior Mark Andrie added eight points and six assists, and junior Elliott Wall had seven points and four steals (and easily caused that many additional turnovers with his defense).
Carlson also praised Andrie for his ballhandling, Stanger and Wall for their best games, and seniors Aaron Braun and Trent Hansen for their contributions off the bench.
This week, the Dogs (now 4-6 overall and 2-4 in the WCC North) will play at Sauk Centre on Friday in a conference contest.
Next week, the Dogs will host Maple Lake in a nonconference game on Monday, Jan. 23.
| | | | |
| --- | --- | --- | --- |
| Minnewaska-- | 45 | 33 | - 78 |
| Paynesville-- | 46 | 45 | - 91 |
SCORING: (FG-FT/FTA-PTS)
Minnewaska 78 - Jordan Holte 8-3/5-20; Ryan Kollman 8-0/0-20; Jordan Johnsrud 6-0/5-12; Scott Faehnrich 5-0/1-11; Jordan Hendricks 2-1/2-5; Jon Hofmann 2-0/0-4; Derrek Hyland 2-0/0-4; John Davis 1-0/1-2; TOTALS: FG 34, FT 4/14, 3's 6.
Paynesville 91 - Ben Moser 11-6/6-35; Cory Nietfeld 10-5/8-26; Derek Stanger 6-0/1-12; Mark Andrie 4-0/1-8; Elliott Wall 3-1/2-7; Aaron Braun 0-3/5-3; TOTALS: FG 34/51, FT 15/23, 3's 8.
STATISTICS: 3-pointers - 8 Moser 7 (school record); Nietfeld 1; Rebounds - 48 Nietfeld 14; Moser 8; Stanger 7; Andrie 6; Braun 5; Wall 5; Assists - 20 Andrie 6; Nietfeld 6; Wall 4; Steals - 21 Nietfeld 6; Wall 4; Andrie 2; Trent Hansen 2; Blocks - 5 Moser 3; Nietfeld 2.
LPGE 63, Paynesville 57
The Bulldogs rallied to tie LPGE with a strong second half and had several chances to win in regulation time but failed to score in overtime and lost a conference game to LPGE 63-57 at home on Tuesday, Jan. 10.
The Dogs trailed 33-26 at halftime and by as many as 11 points in the second half, said coach Phil Carlson. Juniors Ben Moser and Cory Nietfeld each had nine points in the second half, while senior Aaron Braun scored all eight of his points in the second half, as the Dogs outscored LPGE 31-24 to tie the game 57-57 at the end of regulation.
Carlson said that Braun and senior Trent Hansen provided aggressiveness off the bench to help the Dogs rally.
"We had three or four chances to win in the end, but the ball did not drop. They took it to us in overtime, and we lost a tough one at home," said Carlson.
LPGE managed just one field goal in overtime but also made all four of its free throws to score six points. The Dogs committed six turnovers in overtime (and 29 for the game) and went scoreless in the extra time.
"I am confident in our effort," said Carlson. "We need to take care of the ball at all times - better, strong passes and strong catches. We have many games like this ahead of us; it will be interesting to see how we improve!"
| | | | | |
| --- | --- | --- | --- | --- |
| LPGE-- | 33 | 24 | 6 | - 63 |
| Paynesville-- | 26 | 31 | 0 | - 57 |
SCORING: (FG-FT/FTA-PTS)
LPGE 63 - Jeremy Miller 5-2/2-15; Dan Scheve 6-2/2-14; Todd Kuelbs 4-2/2-10; Tyler Minke 3-0/0-7; Brent Hoemberg 3-0/0-6; Dustin VanNorman 2-0/0-6; Jason Tschida 1-2/3-5; TOTALS: FG 24, FT 8/9, 3's 7.
Paynesville 57 - Cory Nietfeld 9-3/5-21; Ben Moser 5-3/3-15; Aaron Braun 2-4/8-8; Derek Stanger 4-0/0-8; Trent Hansen 0-2/2-2; Elliott Wall 1-0/0-2; Sam Beyer 0-1/2-1; TOTALS: FG 21/40, FT 13/20, 3's 2.
STATISTICS: 3-pointers - 2 Moser 2; Rebounds - 30 Nietfeld 9; Moser 5; Assists - 18 Stanger 6; Moser 5; Steals - 17 Moser 5; Nietfeld 3; Wall 3; Braun 2; Blocks - 4 Nietfeld 2.
---
Contact the author at editor@paynesvillepress.com • Return to Sports
Home | Marketplace | Community
---