Three Dogs win individual titles
This article submitted by Michael Jacobson on 1/17/01.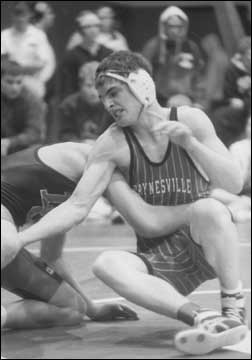 The Bulldogs were polite hosts on Saturday. In the 30 years of hosting the Paynesville Invitational, the Bulldogs have dominated the event, winning champions 19 times and runner-up honors six times.

The Bulldogs had won the tournament the past two years, but this year they placed only fifth as a team.

Paynesvilled did have three individual champions: Nathan Glenz at 119, Jeremy Sogge at 125, and David Kerzman at 130.

Max Meagher defeated David Halonen of Dassel-Cokato 12-2. He took fifth at 160.

Kerzman won his third title at the Paynesville Invitational by pinning both his opponents. He was also the champion at 130 last year, and he won at 125 in 1999. In doing so, Kerzman became the 10th Bulldog wrestler to win three invitational titles. (There also have been three three-time champions from other schools, most recently Tyler Marr of Forest Lake.)

Kerzman, who won a state championship last year, came close to joining Brad Fenske as a four-time champion at the invite. Kerzman was second in 1998 and missed a chance in 1997 when the tournament was cancelled.

Junior Jeremy Sogge won two decisions to earn his second individual title. He won at 119 last year and placed third in state. He could join Kerzman in the three-title club next year.

In his first match, Sogge got his 100th career victory, becoming the 21st Bulldog wrestler to achieve that feat. (See related story.)

Glenz had a pin and a 13-3 major decision to win the 119 title.

Senior Joe Hiltner was the only other Bulldog to wrestle in the final at his weight class. Hiltner pinned his first two opponents and looked in control in the final, taking a 12-6 lead.

But an escape and five-point move by Scott West's David Whipps tied the score at 12. Hiltner escaped to regain a 13-12 lead, but Whipps turned Hiltner in the third and pinned him in the waning seconds for the crown.

Whipps, a junior, was a state entrant last year and is rated first in his weight in Class AA. He earned his second invitational title in Paynesville.

Josh Schreifels (145), Ryan Glenz (152), and Max Meagher (160) placed fifth for the Bulldogs. Jeremy Fuchs (135) lost his fifth-place match on a last second takedown and took sixth.

Minneota claimed a key individual championship over Scott West at 171 and went on to the team title, besting Scott West 182-172.5. Dassel-Cokato was third, and Park Rapids was fourth. The Bulldogs tied with Forest Lake for fifth with 123.

The Bulldog's match at Melrose on Thursday was postponed due to weather. The match was rescheduled for yesterday. The Bulldogs wrestle at Rocori on Thursday.

They will wrestle in a dual match tournament at Eastview High School in Apple Valley on Saturday. The Bulldogs wrestle Eden Prairie in the opening round, which is scheduled to start at 9 a.m. for the junior varsity and 10 a.m. for the varsity. The second round is scheduled to start at 11:30 a.m. and 12:30 a.m. respectively, and the third round is scheduled for 2 p.m. and 3 p.m.

Teams in the tournament are Arlington, Dassel-Cokato, Eastview, Faribault, Paynesville, Prior Lake, Coon Rapids, and Eden Prairie.

The Bulldogs will also wrestle at the Pierz Quadrangular on Tuesday, Jan. 23. Action is scheduled to start at 5 p.m.

Paynesville Invitational
1. Minneota - 182
2. Scott West - 172.5
3. Dassel-Cokato - 161.5
4. Park Rapids - 123.5
5. Paynesville - 123
5. Forest Lake - 123
7. Deer River - 74

Individual Results
103-Sean Glenz (P) lost 11-3, lost 15-4...Seventh place;
112-Adam Christian (P) lost 11-7, lost 11-3, lost by injury default...Sixth place;
119-Nathan Glenz (P) pinned in 1:19, won 13-3...First place;
125-Jeremy Sogge (P) won 17-7, won 9-5...First place;
130-David Kerzman (P) pinned in 4:14, pinned in 1:00...First place;
135-Jeremy Fuchs (P) won 6-5, lost 6-2, lost 3-1...Sixth place;
140-Joe Hiltner (P) pinned in 2:27, pinned in 1:15, lost by pin in 5:57... Second place;
145-Josh Schreifels (P) won 14-9, lost 6-1, lost 6-5, won 12-2...Fifth place;
152-Ryan Glenz (P) won 7-5, lost 18-5, lost 4-0, won 8-7...Fifth place;
160-Max Meagher (P) lost 6-4, lost 4-2, won 12-2...Fifth place;
171- Josh Kerzman (P) lost 14-6, lost 17-10... Seventh place;
189-Jason Leyendecker (P) lost by pin in 1:45, lost by pin in 5:22, lost 7-2...Sixth place;
HWT-Brad Person (P) lost by pin in 1:50, lost by pin in 0:25, lost by pin in 0:41...Sixth place.
---