Cheerleaders win top honors
This article submitted by Linda Stelling on 1/17/01.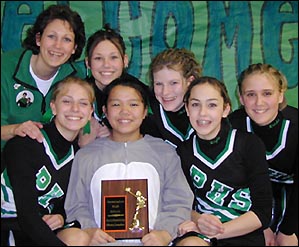 The Paynesville Bulldog cheerleaders were named the Most Outstanding Cheer Squad at the Farmington Wrestling Tournament on Saturday, Jan. 7.

"We were so excited to win for the third year in a row," said Cindy Fuchs, cheer coach.

The girls have earned the respect of other teams and set a good example for others, Fuchs added.

There were 12 cheer squads competing for the honor this year. During the wrestling matches, the girls were judged on voice clarification, saying the words and not singing them; loudness, being able to hear the cheers clearly on the other side of the gym; how sharp their motion techniques were; jumps and leaps; and stunts. The girls know nine different jumps and eight different stunts.

On the varsity squad for Paynesville are: juniors Steph Thomsen and Krista Kotschevar; sophomore Kelly Schultz; and ninth graders Heather Fuchs and Kayla Welle. The team mascot is junior Rachel Koehn.

The judges watched the cheerleaders through different matches and tallied the scores.

The judges also asked the cheer coaches to rate the teams as to who they thought were the top three.

A cheer squad's appearance makes a big impact at meets, Fuchs said. The teams need to look neat. Some of the teams come in sloppy clothes, and their attitude shows in their cheers, she added.

During the first year of competition, the girls were proving things to themselves, Fuchs said.

Cheerleading isn't all fun and games, it takes a lot of hard work to perform well.

"A lot of towns have cut cheerleading from their extracurricular activities," Fuchs said. "A good cheerleading team isn't based on quantity but quality."

The Paynesville wrestling cheerleaders attend camps every summer to learn sideline dances, cheers, and new jumps. The camps are sponsored by the National Cheerleaders Association. Paynesville hosted a region camp last year.

Fuchs holds tryouts every year for wrestling and football cheerleaders.
---