Stars drop two one-goal games
This article submitted by Chris Jacobson on 1/17/01.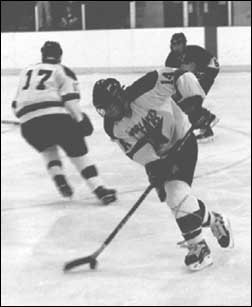 The Stars went back to their normal two games a week schedule. This past Tuesday, the Stars played Long Prarie-Grey Eagle (LPGE) in Richmond. This past Friday, they took on Minneapolis Edison in Paynesville.

Junior Chris Jacobson (14) scored a goal for the Stars against LPGE on Friday.

The first period against LPGE was the same as usual for the stars. LPGE came out first and scored, two minutes into the game. River Lakes answered with a goal by Mike Stang.

In the second period, LPGE again came out two minutes into the period and scored again to put them in the lead.

This time the Stars answered with two goals. Brett Theisen put one in to tie it for the Stars. A goal by Chris Jacobson put the Stars ahead 3-2 going into the third period.

The third period went in favor of LPGE, at least on the scoreboard anyway. Once again, around the two minute mark in the period, LPGE scored, tying up the game once again. Two minutes later, LPG put one more in to finish the game.

The Stars host Benson tomorrow at the Koronis Civic Arena, starting at 7 p.m. On Tuesday they play at Litchfield, with the junior varsity playing at 5:30 p.m. and the varsity starting around 7 p.m.
| | | | | |
| --- | --- | --- | --- | --- |
| LPGE-- | 1 | 1 | 2 | - 4 |
| River Lakes-- | 1 | 2 | 0 | - 3 |
First Period: Goals (assists): LPGE- Levi Berg (Jay Brisson), RL-Mike Stang (Darren Stommes);
Second Period: LPGE- Aric Dierkhising (Berg); RL-Brett Theisen, (Stommes); RL-Chris Jacobson (Chris Brinkman);
Third Period: LPGE-Dan Hillman; LPGE-Josh Meyer (Scott Hallermann).
Edison 4
River Lakes 3
The Stars hosted Edison last Friday in Paynesville.
Because of traffic conditions, the game started about a half hour late. The see-saw battle wasn't decided until the third period.
The Stars took the early lead on a goal by Joe Howe. Edison answered back two minutes later with a goal. Edison scored another to put them on top for the period.
The Stars' Mike Anderson scored for the Stars to tie up the game in the second. Edison pulled ahead again with another goal. Then, the Stars' Andrew Schmidt scored tying up the game yet again.
Edison put the game away in the third period with the final goal to win the game.
| | | | | |
| --- | --- | --- | --- | --- |
| Edison-- | 2 | 1 | 1 | - 4 |
| River Lakes-- | 1 | 2 | 0 | - 3 |
---