While snow in the area has fallen, melted, fallen again and melted again this winter, there has been enough for snowmobile enthusiasts to have opportunities to race.

Several local riders have started racing this winter in the World Snowmobile Association, which has had two races in Willmar already and another scheduled for this weekend. The first race in Willmar, in early December, was actually scheduled for Wisconsin, but there was no snow there and plenty around here, thanks to the two-foot storm in late November.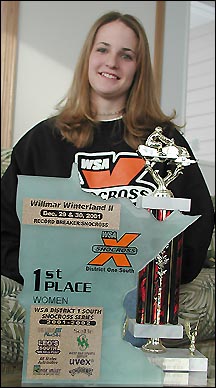 The WSA snocross is very similar to a motocross course, a football-field sized track with lots of jumps and curves. "Just like motocross," said Mike Ogdahl, who is in his first year of racing, "but made of snow."
Like many others, Ogdahl tried racing last year at an event in Regal and got hooked. He plans to race his sled ten times this winter.
Nicole Hagen (at left), 17, of Hawick, also got started racing last year at Regal. Hagen, a junior at New London-Spicer High School, is undefeated, despite driving a 1996 Polaris 440, an underdog sled according to her dad, Blair. She won all three heats and the finals at Regal last year and then at Willmar this winter. "I surprised myself when I went out there in my first race and won it," she said. "I surprised everyone."
At Willmar she was undefeated despite racing against more experienced women, as all the women were grouped in one class due to lack of numbers. Nicole won two races within 100 feet of the finish and two races by quite a margin. "Two of them she had us standing up and biting our nails," said her mother Anita.
Nicole has wanted to race all her life. "I always talked about it and finally one of my friends said, 'You're racing,'" she explained. That's what talking gets you."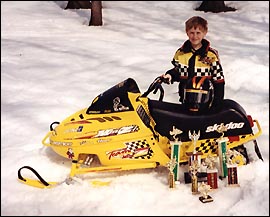 Travis Wensmann (at right) may only be a fifth grader but he's already in his second year of racing, having collected a number of trophies with a first-place finish and two runners-up performances. He started last year at Regal as well, and then tried ice racing and drag racing, too.
"I just like driving," said Travis. "It doesn't really matter to me if I come in first or last."
Racing allows you to drive in a more extreme manner than is legal on trails or lakes, said Ogdahl. "It relieves everyday stress," he explained. "It's a good way to have fun on a snowmobile without endangering anyone on the trails."
What Nicole likes about racing is "the rush," she said. "The start. All the excitement. Being nervous. It's awesome."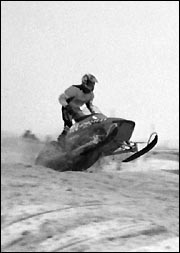 Two racers waited a long time to experience that feeling. Both Ryan Frank (at left), a 2001 graduate of Paynesville Area High School, and Dan Pearson, a senior at PAHS, have wanted to race for a number of years before starting this winter.
"I always wanted to (race) but my parents told me I had to wait until I was 18," said Ryan, now 18, who has already raced twice this winter, once at Willmar and once at Thief River Falls. He is also planning to race ten times this winter.
He prides himself on taking first in his first heat in Willmar. He won two of three heats and finished fourth in the finals there. At a regional race in Thief River Falls, he finished second, fourth, and sixth in his heats in the semipro class.
Pearson has wanted to race snowmobiles since he was in junior high and watched a snocross race on television, but had to wait for years, in part due to the expense of racing. "It's a different experience," he said of racing. "You don't know what to totally expect."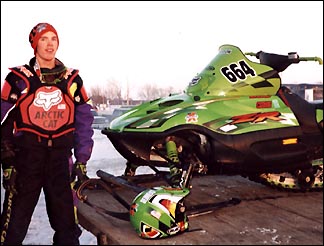 Last year, Pearson (at right) rode 3,000 miles on his sled and he has snowmobiled in the Big Horn Mountains three times, experiences that helped him adjust to racing, he said. "I put on a lot of miles," he explained.
The WSA has a variety of classes. Ogdahl races in three classes: veterans (for racers over 30), beginner 500, and beginner 600. Each division runs a different number of laps for the heats and the finals. For Ogdahl, in his classes, heats are four laps and finals are eight.
Travis races in the junior class for eight- to 12-year-olds. His races are one practice lap and then one hot lap. He and his stepfather, Randy Fenske, have modified his 120cc sled some to get it to go almost 20 mph.
"I just like racing," he said, even though it does give his mother, Darlene Fenske, a few grey hairs. He also likes to watch car racing on television, especially NASCAR.
Racing takes a lot of time. Just going to the race on Friday night to set up and practice, Saturday to run heats, and Sunday to run another heat and the final is a commitment. But the time commitment doesn't stop there. Since he started, Ogdahl went to a one-day race school at Skidoo to learn about maximizing a snowmobile's performance, about racing protocol, and to qualify to buy a 440 racing sled.
Riders need to keep in shape, as racing takes endurance to avoid fatigue, said Ogdahl, who visits a chiropractor the day after a race.
Using the brakes and throttle constantly, turning frequently, and holding on while landing taxes your arms while racing. "Your legs get sore unless you're in shape," said Nicole, who runs and does sit-ups and push-ups for conditioning.
Racers must wear a protective vest and a blaze orange helmet, so other riders can see them clearly even if they fall from their machine. Ryan, like so many others, started driving snowmobile as a youngster, circling the house in a 1971 Panther. He now rides his Polaris 440 Pro Ex "as much as I can. I try to go out everyday, even with the snow we have now," he said.
Next year, he wants to join forces with his younger brother and start Frank Racing. He also wants to make snowmobiles a vocation as well as a passion. He is attending Alexandria Technical College to become a snowmobile mechanic.
Pearson also thinks helping with the maintenance of his sled will help him in the future. He plans to major in mechanical engineering at South Dakota State University and thinks maintenance and modifying his sled for peak performance will benefit his mechanical knowledge.
"It's a lot of fun to see a lot of local kids involved," said Anita Hagen, whose family follows racers from both Paynesville and New London-Spicer. "It's fun to go as a spectator because you know so many people."
---
Contact the author at paypress@lkdllink.net • Return to Sports
Home | Marketplace | Community
---