The Paynesville varsity dance team took second place, behind defending state champion Yellow Medicine East, at a danceline competition at Renville County West High School on Saturday, Jan. 10.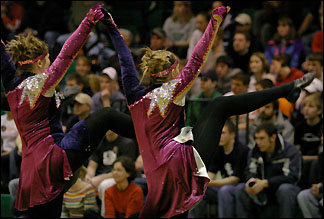 In the high kick category, Yellow Medicine East, the defending state champion, took first place. Paynesville placed second with their highest scores of the season. Third place went to Watertown-Mayer, and fourth to Renville County West.
The danceline performed on Thursday during the home girls' game.
The Bullettes have reached a new level of precision since a rusty performance on Tuesday, Jan. 6, at halftime of the home girls' basketball game, according to coaches Barb Werlinger and Jeanne Virant. The Bullettes returned after Christmas break with several memory slips and out-of-sync movements.
The performance was a crucial wakeup call, according to the team and their coaches. The hometown crowd is vital to test and refine our competitive effort, they added.
The team felt their two-hour practices paid off with a second place trophy and the team's highest scores this season. The Bullettes' highest points were earned in presentation and choreography, which means the routine is considered competitive and difficult.
The team's lowest marks were in precision and kick quality. Even though the Bullettes' kicks look good, other teams can reach nearly 180 degrees in height and snap with superior power, earning higher scores.
The Bullettes will now analyze their performance tapes to identify areas of awkward moves and areas to work to perfect.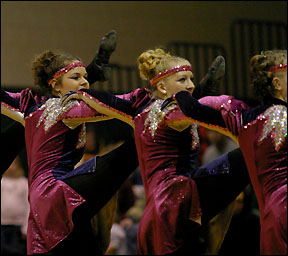 The team is grateful for the support and suggestions from its home crowd and is especially appreciative for the privilege of performing in new uniforms this year. The new uniforms - made possible through team fundraisers and donations - replace 12-year-old uniforms and make Paynesville one of the best outfitted teams at competition.
Danceline members Amanda Halvorson, and Val Callenius display their high kicks last week.
Danceline members are: Holly Bennett, Amanda Burlingame, Val Callenius, Maggie Frieler, Amanda Halvorson, Rachel Hanson, Katie Holtzclaw, Michelle Magedanz, Megan Reeck, Amanda Skalicky, Brittany Stang, Jessie Virant, Angie Wunsch, and Carrie Zirbes.
The Bullettes will perform at halftime during the boys' basketball game on Thursday, Jan. 15, and will compete at New London-Spicer High School on Saturday, Jan. 17. At NL-S, the jazz/funk competition runs from 11 a.m. to 1:45 p.m. The high kick competition begins at 1:45 p.m., with Paynesville scheduled to compete about 2:25 p.m. An awards ceremony will begin at 3:45 p.m.
---
Contact the author at editor@paynesvillepress.com • Return to Sports
Home | Marketplace | Community
---