Wrestlers take third at Farmington after first loss
This article submitted by Michael Jacobson on 1/12/00.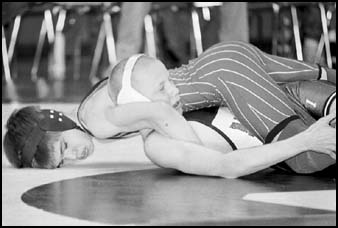 The Bulldogs defeated a number of state-ranked teams this past week as they resumed their wrestling schedule after the Christmas break.

In a triangular in Paynesville on Thursday night, their first home meet of the season, the Bulldogs defeated Albany 39-16 in a conference meet and then beat state-rated Big Lake 46-20.

At right: Adam Christian got the Bulldogs off to fast starts against both Albany and Big Lake - he pinned both of his opponents.

On Saturday, the Bulldogs traveled to Farmington to wrestle against some of the top teams in the state in the 12-team tournament. The Bulldogs finished third at the tournament, losing their first match of the season 35-16 to Jackson County Central, the defending state champion in Class AA and the eventual champion at Farmington.

In the preliminary rounds, the Bulldogs defeated Lakeville 54-12 and Faribault 36-24. Faribault is ranked 12th in Class AAA.

In the semifinals, Jackson County Central, ranked first in Class AA this season, bettered the Bulldogs 35-16. Jackson County Central beat St. Michael-Albertville in the finals in a rematch of last year's Class AA state final.

For third place at the Farmington tournament, the Bulldogs defeated Blue Earth 48-22. Blue Earth is rated fifth in Class AA. "We had a good week," said coach Virg Vagle, "in that we beat Big Lake, who is rated #2 in Class AA, and Blue Earth, who is rated #5 in Class AA, but we lost to the #1 rated team in the state in Class AA."

The bottom seven teams at the tournament were all Class AAA schools. Seniors Chris Welle, Josh Bork, and Scott Braun finished the day undefeated for the Bulldogs. Welle won four matches, three by pin. His other victory was a decision against Marc Harwood of Jackson County Central in overtime. Harwood also placed sixth at state last year. Bork won three, one by pin; and Braun won both his matches by fall.

Chris and Jeremy Sogge each won three matches for Paynesville against just one loss. Both lost to defending state champion: Chris to Nate Baker of Jackson County Central and Jeremy to Jeff Pfaffinger of Blue Earth. Chris pinned three opponents, and Jeremy two.

David Kerzman also had two pins in three matches.

The wrestling cheerleaders came home from the tournament with the first-place trophy for cheerleading.

The junior varsity wrestlers placed second as a team at Farmington. They defeated Lakeville 60-12 and Faribault 39-21 in the opening round, and then Goodhue 34-27 in the semifinals. St. Michael-Albertville edged Paynesville in the junior varsity finals 37-33.

Individual champions for the Bulldogs in junior varsity competition were Jeremy Fuchs and Ryan Glenz.

The Bulldogs won nine weight classes in beating Albany 39-16. Paynesville scored six points at four of the first five weights to take a 24-4 lead, thanks to pins by Adam Christian, Brad Schultz, and David Kerzman and a forfeit at 119.

The last seven matches were decisions, with the Bulldogs winning five of them, including one-point wins by Welle at 145 and Bork at 189, who had a second-period escape and rode out the third to win 1-0.

Chris Sogge beat Albany's Travis Hoffarth, who had an 11-1 record entering the match, 10-4 at 160.

With the victory, the Bulldogs are 3-0 in the conference for the year.

Against Big Lake, rated second in Class AA, the Bulldogs jumped to leads of 17-4 and 27-10 in beating the Hornets 46-20. Adam Christian started the match with his second pin of the night at 103 to give the Bulldogs a 6-0 lead. Jeremy Sogge had a pin at 119, and Brad Schultz won on a technical fall 23-6, using the entire six minutes as he tried for a pin. He led just 8-2 after two periods, but scored 15 points in the third period.

Big Lake has five individual entrants from last year's state tournament on their team this year, including Kelly Peterson, the state champion at 112. Other state entrants are Ryan Lumley, now at 112; Kelly Flaherty, fourth last year at 130; Ryan Flaherty, who has been out due to injury; and Peter Ottem at 189.

After Peterson won by fall at 130, Kerzman won a major decision at 135, and Chris Welle pinned his opponent at 140. Kelly Flaherty won by fall at 145, and then the Bulldogs won three straight weights to seal the match. Joe Hiltner won 7-1 at 152, Chris Sogge won 8-0 at 160, and Shaun Fleischhacker had a first period pin to seal the match at 171.

At that point, the score was 40-16. The final score was 46-20 for Paynesville.

Farmington Tournament Paynesville 54, Lakeville 12 Paynesville 36, Faribault 24 Jackson County Central 35, Paynesville 16 Paynesville 48, Blue Earth 22 Third Place Paynesville 39, Albany 16
103: Adam Christian (P) pinned Scott Schlangen, 4:54;
112: Jay Magney (A) maj. dec. Pat Noonan, 13-0;
119: Justin Spanier (P) won by forfeit;
125: Brad Schultz (P) pinned Chris Rothstein, 1:26;
130: Dave Kerzman (P) pinned Aaron Blackman, 3:39;
135: Chris Mergen pinned Nick Fuchs, 3:39;
140: Jim Mehr (P) dec. Mike Linn, 8-4;
145: Chris Welle (P) dec. Ben Mergen, 4-3;
152: Dusty Leding (A) dec. Max Meagher, 6-3;
160: Chris Sogge (P) dec. Travis Hoffarth, 10-4;
171: Scott Braun (P) dec. Clayton Hennen, 5-2;
189: Josh Bork (P) dec. Shawn Dirkheising, 1-0;
Hwt: Scott Hoffarth (A) dec. Matt Brauchler (P) 7-1.

Paynesville 46, Big Lake 20
103: Adam Christian (P) pinned Keith Lumley, 3:06;
112: Ryan Lumley (BL) maj. dec. Nathan Glenz, 13-3;
119: Jeremy Sogge (P) pinned Jordan Rogers, 5:15;
125: Brad Schultz (P) tech. falled Joe Roble, 23-6;
130: Kelly Peterson (BL) pinned Bryan Kotten, 1:47;
135: David Kerzman (P) maj. dec. Brian Hoglund 20-7;
140: Chris Welle (P) pinned Dan Brantroom, 3:19;
145: Kelly Flaherty (BL) pinned Max Meagher, 0:53;
152: Joe Hiltner (P) dec. Clint Lumley, 7-1;
160: Chris Sogge (P) maj. dec. Casey Flaherty, 8-0;
171: Shaun Fleischhacker (P) pinned Brandon Westegaard, 0:40;
189: Peter Ottem (BL) maj. dec. Josh Bork, 12-3;
Hwt: Brad Person (P) won by forfeit.
---