Bulldogs run past Melrose 57-37
This article submitted by Tanya Lieser on 1/12/00.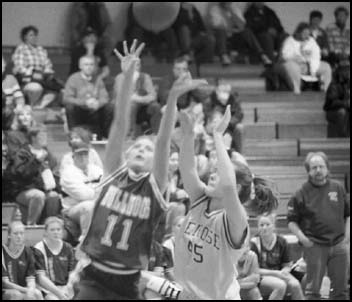 On Tuesday, Jan. 4, the Bulldogs traveled to Dassel-Cokato to face the Chargers. Due to the Bulldogs many turnovers, they lost 63-50.

The game started with a 6-0 run by the Bulldogs. But the Chargers pressed, and the Bulldogs committed many turnovers. By the end of the first quarter, the score was 19-10 with DC ahead.

The Bulldogs got outhustled by the Chargers, allowing them to get many second shots on offense. Paynesville only grabbed 29 rebounds and had only six steals. They also committed 19 turnovers in the first half. The score at the half was 35-23 in favor of the Chargers. Twelve points is the largest lead any team has had over the Bulldogs this season.

"We played good at times, but our turnovers killed us in the beginning," said co-captain Tiff Rausch.

Steph Krupke goes up with a Melrose player for the ball. Krupke had eight point, seven assists, and three steals against Melrose.

In the third quarter the Bulldogs picked up their intensity and outscored the Chargers 18-15. Stacy Lieser and Carrie Hemmesch each had a trey, while Tanya Lieser added eight points.

With four minutes left in the fourth quarter the Chargers' lead was cut to seven points. But that was as close as the Bulldogs got. The final score was 63-50.

Leading the Bulldogs was Tanya Lieser with 22 points and 12 rebounds, and Stacy Lieser had six points and six assists. Carin Frenchick added 10 points.
| | | | | | |
| --- | --- | --- | --- | --- | --- |
| DC-- | 19 | 16 | 15 | 13 | - 63 |
| Paynesville-- | 10 | 13 | 18 | 9 | - 50 |
Paynesville 57
Melrose 37
On Friday, Paynesville hosted Melrose in front of a large home crowd. The Bulldogs pulled away in the second half to win 57-37.
The Bulldogs were fired up and ran the court well. Paynesville's intensity bought them a 14-8 lead at the end of the first quarter.
In the second quarter, the Bulldogs let Melrose outscore them 18-15. But the Bulldogs still managed to have a 29-25 halftime lead.
Paynesville played an excellent second half, allowing just 12 points. Stacy Lieser had a good third quarter scoring nine of her 16 points.
Paynesville was ahead by 12 at the start of the fourth quarter and never looked back. Paynesville's offense improved as the game progressed. The guards combined for 12 assists, seven by Steph Krupke.
"Good things happen when our guards penetrate," said coach Pat Deegan. "They can dish off or take it in."
Leading the Bulldogs was Carin Frenchick with 18 points and Stacy Lieser with 16 points and five steals.
The win gave the Bulldogs a 2-1 record in the conference. Paynesville's next game is Thursday at Litchfield, who are also 2-1 in the conference, led by senior Carin Rambow. Next Tuesday, the Bulldogs host conference-leading Sauk Centre, who started the conference schedule 3-0.
| | | | | | |
| --- | --- | --- | --- | --- | --- |
| Melrose-- | 8 | 17 | 3 | 9 | - 37 |
| Paynesville-- | 14 | 15 | 11 | 17 | - 57 |
---