The Bulldogs gymnastics team scored a season high with 117 points but lost to Litchfield last week in a home meet. The Dragons defeated the Dogs 123.95 to 117.375 on Tuesday, Jan. 3, at the Lake Koronis Assembly Grounds.

A number of career highs, especially by ninth grader Anna Kotten, as well as the return of junior Kacy Nehowig to the lineup, helped the Dogs score their season high.

Kotten scored career highs on the uneven bars (8.4), on the floor (8.6), and in the all around (33.475). She nailed both her floor and bars routines and had a great night overall, said coach Deb Nehowig.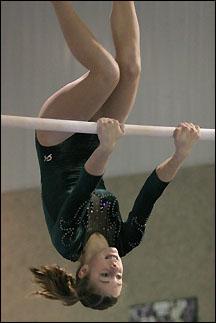 Kotten placed first in the all around, first on the bars, second on the floor and balance beam, and third on the vault. Her career-high score in the all around came within 0.675 points of the school record (34.15), set by Sara Spanier in 1995.
Seventh grader Megan Wuertz scored 8.1 on the vault and 5.3 on the bars last week to help the varsity set a season high with 117 points.
Junior Celia Frieler and sophomore Cassey Lund both had career highs on the floor exercise, topping seven for the first time. Frieler placed fifth on the floor (7.1) and also placed fourth on the balance beam (7.1).
Senior Kayla Nelson also placed third on the balance beam, giving the Dogs a 2-3-4 finish in the event and coming within a point of Litchfield on beam. Nelson scored 7.4 with her no-fall routine.
The Dogs came closest to the Dragons on the uneven bars, where Kotten placed first, junior Brittney Spanier placed fourth (7.15), and junior Kacy Nehowig, returning to the lineup after a suffering a hip injury in cross country, scored 7.0 to place fifth.
Nehowig qualified for state last year on the bars. With her back in the lineup, the team is shooting for scoring 120 points, said coach Deb Nehowig.
"I was pleased with our team score," said Nehowig, "especially having a meet right after Christmas vacation where skills are worked on moreso than routines."
This week, the Dogs traveled to Howard Lake-Waverly on Tuesday. On Thursday, they will travel to Melrose to face the Dutchmen.
| | |
| --- | --- |
| Litchfield-- | 123.95 |
| Paynesville-- | 117.375 |
Individual Results
Vault: Anna Kotten (3) 8.55; Megan Wuertz 8.1; Brittney Spanier 8.05; Cassey Lund 7.65; Caitlyn Gottwald 7.8; TOTAL: Pay - 32.5; Litch - 34.475;
Uneven bars: Kotten (1) 8.4; Spanier (4) 7.15; Kacy Nehowig (5) 7.0; Wuertz 5.3; Celia Frieler 4.45; TOTAL: Pay - 27.85; Litch - 28.55;
Balance beam: Kotten (2) 7.925; Kayla Nelson (3) 7.4; Frieler (4) 7.1; Gottwald 5.5; Spanier 5.45; TOTAL: Pay - 27.925; Litch - 28.925;
Floor: Kotten (2) 8.6; Frieler (5) 7.1; Lund 7.0; Nelson 6.4; Gottwald 6.3; TOTAL: Pay - 29.1; Litch - 32.0;
All around: Kotten (1) 33.475.
---
Contact the author at editor@paynesvillepress.com • Return to Sports
Home | Marketplace | Community
---