Regal native works as TV sports producer
This article submitted by Michael Jacobson on 1/10/00.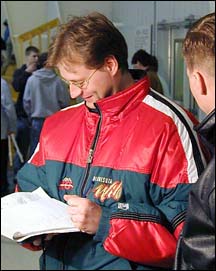 Behind the scenes on the Gophers' coaches weekly television shows, you'll find someone who probably got his first exposure to sports on a baseball field in Regal.

Trevor Fleck has wanted to be in sports broadcasting since his high school days in Paynesville, where he played basketball and, of course, baseball. "That was the plan from the time I was a junior in high school," he said.

After graduating from Paynesville Area High School in 1987, the Regal native earned a broadcasting degree from Southwest State University in Marshall.

From there he interned with WCCO-TV in the Twin Cities with Mike Max. His internship led Fleck to part-time jobs with WCCO and the Midwestern Sports Channel (MSC) for three years. He also started to produce Mike Max's shows.

In 1994, Fleck was hired full-time by MSC as a producer. He now produces the weekly shows for Gopher football coach Glen Mason, basketball coach Dan Monson, and hockey coach Don Lucia.

As producer, Fleck writes the introductions, opening segments, and interview questions. For feature stories, he will set up the meeting, interview the subject, and script the dialogue. Even if he conducts the interview, Fleck's voice never appears over the air, though, as the anchor dubs the speaking part in place of Fleck.

He also produces the weekly Let's Play Hockey show that airs on MSC. That show taped a segment in Paynesville last week, bringing Fleck home for an evening.

During the taping, Fleck keeps track of the time of each segment as well as where it will be located in the final presentation.

Fleck will oversee the editing of the tape into the finished product that is broadcast.

While being on air was his original goal, Fleck got a job in producing and likes it. His ultimate goal is to move into producing sports documentaries.

Fleck missed accompanying the Gophers' football team to Florida for their recent bowl game to be with his wife as she gave birth to the couple's third child. The Flecks live in Eden Prairie.
---