Hockey association to be on TV
This article submitted by Michael Jacobson on 1/10/00.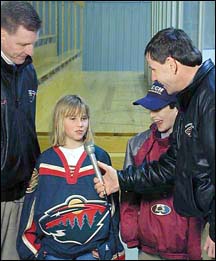 A segment of Let's Play Hockey will focus on the Paynesville-New London-Spicer Hockey Association. The shows was taped last Thursday at the Koronis Civic Arena in Paynesville.

Cohost Wally Shaver (right) interviews Jennifer Paul while Colin Spooner enjoys a laugh. Publisher and cohost Doug Johnson stands at left.

In newspaper form, Let's Play Hockey has covered hockey in the five-state area for the past 29 years. The television show on the Midwest Sports Channel (MSC) started 10 years ago, or five years after current owner Doug Johnson purchased the business.

Johnson - who played hockey collegiately at St. Thomas University and professionally for three years in the North Stars organization - bought Let's Play Hockey to stay active in the game. His newspaper and television show covers youth hockey, high school hockey, college hockey, and professional hockey.

The feature in Paynesville will be an entire show dedicated to the PNLS Hockey Association. Johnson, who cohosts the show, said outstate people love the game as much as people in the metro area, but don't get the recognition. "We just want to give them their due," he explained. "These are the people that make the sport fun."

Wally Shaver, the other co-host, is the voice of the St. Cloud State Huskies as well as the high school state tournament. His father, Al, is in the NHL Hall of Fame for his broadcasting of the North Stars.

Wally Shaver said he enjoys talking to kids, coaches, and board members in local hockey associations. "This is fun," he said. "We have a blast doing it."

The show picks associations and takes suggestions from readers. Their visit to Paynesville resulted from Mike Mackedanz submitting a request at last year's state tournament.

In Paynesville, Let's Play Hockey interviewed girls' Peewee player Shannon Smith, boys' Bantam player Michael Mueller, and Mike Anderson, a freshman on the River Lakes Stars high school team. For adults, they talked with girls' Peewee coach Jim Smith, girls' coordinator and board member Ann Anderson, and Peewee coach and board member Rick Paul.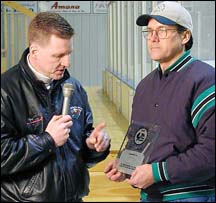 Johnson presented hockey association president Otto Naujokas (Naujokas at right accepts the award) with a Team Voyageurs award for "years of service to youth hockey."
Jennifer Paul and Colin Spooner won a Wild game jersey and an autographed hat respectively.
The Let's Play Hockey show about the PNLS Hockey Association will be broadcast three times in January. It will first be shown on Tuesday, Jan. 16, at 3:30 p.m. Then it will be rebroadcast on Saturday, Jan. 20, at 6 p.m., and on Sunday, Jan. 21, at 12 p.m.
Naujokas said the television show would help attract teams to Paynesville for tournaments. "It's not only good for recognizing the volunteers in our organization, but it's good publicity to bring more activity to our arena," he said.
Hockey association facts
The PNLS Hockey Association has 107 participants this year, including players on the River Lakes high school teams. They also have 43 Mites and Termites, their largest group of 4-7 year olds ever.
Before high school hockey started, PNLS had a strong girls program, which took a hit with the start of a girls' team. This year, for the first time in five years, PNLS has a girls' Peewee team again.
The improved facility might be one reason why the number of participants is growing. In 1992, the association built its current arena, moving from an outdoor rink to natural ice inside.
In 1997, the association received a $250,000 Mighty Ducks grant, which they used to build a 30' by 225' addition. This now houses the concession area, lobby, locker rooms, and mechanical room. In the summer of 1998, artificial ice making apparatus was installed in the rink. This is the third year the arena has had artificial ice.
To do so, volunteers put in 100,000 feet of pipe.
Naujokas said $750,000 has been invested in the arena, which still carries $300,000 in debt. "You couldn't replace it for that," he added. "It would be a million plus."
The city, township, and hockey association jointly pay for the facility.
---