Bulldogs lose twice at home
This article submitted by Sara Lieser on 1/10/00.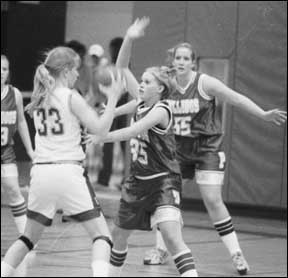 The Paynesville girls' basketball team opened the new year with two home losses.

On Tuesday, Jan. 2, the Dogs hosted the Jaguars of Renville County West and lost 67-52.

Lisa Hemingson (35) guards Lindsey Mathwig of Litchfield while Crystal Humbert (back right) looks on.

Both teams started the game playing pretty equal. The Dogs trailed by only six after the first quarter.

In the second quarter the Jags pulled away a bit more, going to the lockeroom at halftime with a 12-point lead at 37-25.

The Dogs played RCW nearly even in the second half but could not dent the Jaguars' lead. Both teams scored 12 points in the third quarter. In the fourth quarter, the Bulldogs were outscored by only three. The Jaguars pulled away with the win 67-52.

The Dogs struggled in shooting the basketball, as they made only 37 percent of their shots from the field.

The girls played good defense, as they stole the ball 14 times. Steph Krupke and Lisa Hemingson each had three.

The girls also showed teamwork as the team racked up 20 assists. Krupke led the team with 11.

Krupke and Stacy Lieser each had 11 points to lead the team.
| | | | | | |
| --- | --- | --- | --- | --- | --- |
| Renville County West-- | 20 | 17 | 12 | 18 | - 67 |
| Paynesville-- | 14 | 11 | 12 | 15 | - 52 |
Litchfield 60
Paynesville 51
The Bulldogs are still on the hunt for their first conference win, after losing to the Litchfield Dragons at home on Friday.
Both teams started the game with intensity. The Dragons had the edge in the first quarter (21-13), but the Bulldogs rallied in the second, holding Litch to only six points.
At halftime the Dogs were up by one, 28-27.
In the third quarter, the Dragons played very good defense, causing the Dogs to commit some turnovers. This led to some easy points for the Dragons. At the end of the quarter, the Dragons had retaken the lead 44-39.
The Bulldogs increased their defensive intensity in the fourth quarter, but the Dragons held on to the lead.
As the clock ran down, the Dogs had to foul to stop the clock. The Dragons took advantage of it by scoring 14 of their 16 fourth-quarter points on free throws. They won the game 60-51.
The Dogs shot only 52 percent from the free throw line. However, they shot a bit better from the field than in previous games (39 percent).
Stacy Lieser led the team with 17 points, making three three-pointers. Krupke was right behind her with 16 points, including nine of 13 free throws.
Heidi Jansen had nine rebounds and Crystal Humbert eight. Mel Veldkamp made five steals.
| | | | | | |
| --- | --- | --- | --- | --- | --- |
| Litchfield-- | 21 | 6 | 17 | 16 | - 60 |
| Paynesville-- | 13 | 15 | 11 | 12 | - 51 |
---