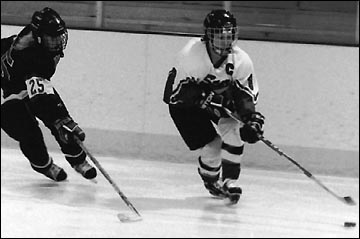 Despite defeat, the River Lakes Stars showed progress in a game against Brainerd on Friday.

In the beginning of the season, River Lakes lost at home to Brainerd 7-1, but this time they only lost 6-2 at Brainerd.

Junior defenseman Marya Losinski clears the puck out of the Stars' zone.

"Our second outing was much more rewarding than the first as our team not only did a great job defensively, but we also enjoyed ourselves," said head coach Tom Petroski. "The game serves as a nice reminder that we are improving as a team."

"This was our best game of the season," added assistant coach Jim Caron.

The Stars outshot the Warriors in the first period, 9-4. But Brainerd got the only goal in this period.

Ten minutes into the second period, junior forward Marena Lewis had a break out with a pass from senior defenseman Anne Bohlman. Lewis got the puck behind the Brainerd's net and passed to senior forward Jenny Habben, who shot the puck into the goal to tie the game at 1-1.

Brainerd answered back with their own goal 18 seconds later. The Warriors scored once more in the second period when the Stars were shorthanded due to a penalty for hooking.

Brainerd outshot the Stars 7-5 in the second period.

Four minutes into the third period, Bohlman gave a great pass to senior forward Laurie Barten, who skated the length of the ice and shot the puck under the Brainerd goalie to make the score 3-2.

But the Warriors capitalized on another power play opportunity by scoring and retaking a two-goal lead, 4-2. The Warriors scored two more times in the third period, and the Stars were unable to answer back with any goals even with two power-play advantages.

Brainerd's Abby Rehberger completed her hat trick with a goal in the third period.

Goalie Trisha Wendlandt made 21 saves for the Stars.

The Stars played Benson on Tuesday, Jan. 8. They will host Willmar at the Koronis Civic Arena in Paynesville on Thursday, and they will play at St. Cloud Tech on Tuesday, Jan. 15. Both games start at 7:30 p.m.
| | | | | |
| --- | --- | --- | --- | --- |
| River Lakes-- | 0 | 1 | 1 | - 2 |
| Brainerd-- | 1 | 2 | 3 | - 6 |
First Period: B-Abby Rehberger (Magan Whalen, Samantha Welle);
Second Period: RL-Jenny Habben (Marena Lewis, Anne Bohlman); B-Rehberger (Welle); B-Welle (Erin Holznagel, Whalen);
Third Period: RL-Laurie Barten (Bohlman); B-Hilary Smith (Holznagel, Alyssa Lewandowski); B-Welle (Emily Dunphy, Samantha Gunning); B-Rehberger (Whalen).
---
Contact the author at paypress@lkdllink.net • Return to Sports
Home | Marketplace | Community
---