Pool league going strong in Stearns County
This article submitted by Aaron Ziemer on 1/5/99.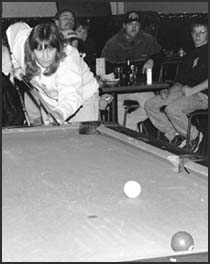 The Central Pool Sharks have been playing pool for almost 20 years in different bars around the area.

They play on Wednesday nights at 8:45, in many of the areaís bars. The league plays eight ball-last pocket, where the eight ball has to go into the same pocket as the last ball the team knocked in.

Larry Krambeal is the coordinator and commissioner of the league and has been for awhile.

This year the league has 18 teams in the league, with 11 different bars having a team. Seven bars have two teams. The bars that have teams are: River Roost, Horseshoe, Sportsmanís Den, Denneís Dog Haus, Maís Place, Doochieís, Goat Ropers, Roscoe Bar, Silver Spur, Roadside Tavern, and the Lake Henry Bullpen.

The regular season is 19 weeks, and there is a seven-week playoff, for the championship at the end of the season. All of the teams make the playoffs and are seated according to rank during the season.

ďThe league is for fun, that is the way it started, and we have done a pretty good job of keeping it that way,Ē said Krambeal.

There are trophies handed out to the top three teams in the regular season, and trophies are given out to the top two finishing teams in the playoffs.

The teams are guaranteed $50 in the playoffs, $25 per game, and the tournament is a double elimination playoff. It is structured so the farther the team goes in the playoffs, the more money they win.

The rest of the money is divided up in terms of points. Again, the more points a team has the more money they win.

The league plays 18 games a night and there are six members on each team, so each member plays three games a night. Every game is recorded as a win or a loss, and that is how the standings are kept.

So far this season, there is a tight race between the first and second place teams. There are only a couple of points separating the Dog Haus 1, and the Horseshoe 1 team. With River Roost just a couple behind them.

Chuck Schmidt is leading the league in individuals so far. He is followed by Doug Winter and Mike Schreifels. Joe Osendorf is in fourth, and Doug Schwandt is in fifth.

The league has five more weeks left after their matches tonight. Then they will start playoffs.