Top achievements in sports for 1999 are reviewed
This article submitted by Michael Jacobson on 1/5/00.
(Editor's note: All sorts of sports played an important part of life in the Paynesville area in 1999. However, these five accomplishments stood out among the many athletic achievements in the Paynesville area in 1999.)

Wrestlers finish fourth
The Paynesville Bulldogs high school wrestling team made its 15th trip to the state wrestling tournament in February 1999, returning with the fourth-place trophy and two individual place winners.

At the start of the season, another state tournament berth seemed like a long shot, especially with strong teams like Litchfield, Rocori, and Dassel-Cokato, the defending state champions in Class AA, in their section. The Bulldogs, who started the 1998-99 season with few experienced wrestlers, made great progress throughout the season.

Once again, the Bulldogs wrestled a number of top caliber teams during the season, and compiled a 26-5-1 for the season. Every day, every week, every practice, every meet, each wrestler improved in experience, conditioning, technique, or confidence.

In January, the Bulldogs defeated six ranked teams, including Dassel-Cokato, in winning their own Paynesville Invitational.

At team sections in February, the Bulldogs defeated Rocori 33-27 in the semifinals and Dassel-Cokato 39-20 in the finals to qualify for the state tournament. Individually, five Bulldog wrestlers qualified for the state tourney. Section champions for Paynesville were senior Justin Mueller at 135, junior Chris Sogge at 152, and senior Karl Sanborn at 171. Runners-up were sophomore David Kerzman at 125 and junior Chris Welle at 140.

At the state tournament, held at Target Center in Minneapolis from Feb. 25-27, the Bulldogs opened with a 34-15 win over Fillmore Central, a cooperative school representing Harmony, Mabel-Canton, and Lanesboro that was making its first state appearance.

In the semifinals, the Bulldogs faced an old foe, St. Michael-Albertville. In a close match that wasn't decided until the final match, the Knights advanced with a 32-25 win.

The match for third place against New Prague also was close. It was tied at 20 with two matches to go, but the Trojans won two decisions to claim the victory 26-20.

In the individual tournament, all the Bulldogs wrestled well, but Kerzman and Mueller had tough draws. Sanborn was one win short of placing.

The Bulldogs' highest individual finish was accomplished by Sogge with a third-place effort at 152. He was nearly eliminated in the wrestlebacks but used a five-point move in the waning seconds to advance. Welle was sixth at 140.

So far in the 1999-2000 season, the Bulldogs are undefeated in seven matches. Before Christmas, they beat state-rated Litchfield 36-27 to gain an advantage in the conference. They host their first home meet of the season on Thursday in a triangular against Albany at 6 p.m. and Big Lake at 7:30 p.m.

A trio of thirds
In 1999, Jenny Hess established herself as an elite distance runner in the state by winning three bronze medals in state competition.

After placing 24th at the 1998 state cross country meet, Hess was almost unbeatable last spring in track. Running primarily in the 1,600-meter and 3,200-meter races, Hess was undefeated in both races for the season after winning both at the section championships.

As a ninth grader, Hess won the 1,600-meter run at sections for the second straight year.

Earlier in the year, Hess helped set several records. At an April meet at Minnewaska High School, Hess set meet records in the 1,600-meter run, the 3,200-meter run, and, running with Carin Frenchick, Tiff Rausch, and Danielle Lieser, in the 1,600-meter relay.

At the state track meet in Blaine, a school record wasn't enough to keep Hess undefeated. In the 3,200-meter run, Hess led for the first six laps, but was passed by Julie Gifford of Tracy-Milroy and Marit Sviggum of Kenyon-Wanamingo. Hess placed third in 11:24.83, which set a new school record in the event.

In the 1,600-meter run, Hess placed third again behind Sviggum and Gifford.

Paynesville had two other state placers in track. Luc Trees was fifth in the high jump after clearing 6' 4", and Jeff Voss was sixth in the 110-meter high hurdles in a time of 15.63.

Over the summer, Hess, who is known for her hard work and training, kept herself in shape and won several road races in the area.

Her form was evident from the start of the cross country season. At BBE, she beat state-rated competition by almost a minute. At Princeton, dubbed the world's largest cross country meet, she won her class. In eight regular season meets, she was first seven times and second once. She won the sub-section title at Morris, and avenged her only loss in claiming the section title at the Little Crow Country Club in Spicer. She defeated four runners that day who had finished in the top ten at state in 1998.

At the state cross country meet at St. Olaf College in Northfield on Saturday, Nov. 6, Hess and Julie Gifford led the pack of runners from the start. Hess led through the first half of the 4,000-meter race, but the Tracy-Milroy senior was right on her shoulder and went on to win. Hess, now a sophomore, placed third in 14:57.1.

Finally first
For 12 years, John Liestman and Dave Heitke have fished in the Kenora Bass International. The tournament routinely draws more than 200 two-man boats from across Canada and the United States, including local guides, area amateurs, and professional fishermen to Kenora, Ont., and the Lake of the Woods.

The Paynesville duo has finished second in the tournament twice and in the top ten on several occasions. They finished seventh in the tournament in 1998, after runner-up finishes in 1994 and 1995.

From Aug. 6-8, they shed their runner-up status by winning the Lake of the Woods tourney with a three-day record total of 52.34 pounds, with a winning margin of four and a half pounds. They attribute their success to pre-fishing, where they find good spots and experiment with various lures.

On the first day, their five-bass total weighed 17.10 pounds, good enough for fourth place. On Saturday, their catch of 18.49 pounds vaulted them into first place.

On Sunday, the third and final day, the fishing ends early so the leading boats can be paraded to a tent for the final weigh-in. A crowd of 1,500 people attended the final weigh-in, with lots of support given to a pair of local teenagers who finished second.

As the second-day leaders, Heitke and Liestman were the last to enter the tent and their catch was the last to be weighed. Their total of 16.75 pounds beat the second-place team's total by three and a half pounds.

With a total of 52.34, Liestman and Heitke set a record for the three-day tournament. (For most of its 12-year life, the tournament was only two days long.)

"After being bridesmaids for two years, we finally made it to the altar," explained Liestman.

Second in state
Hosting the Sixth District American Legion Baseball Tournament, the Paynesville team won three games on Saturday, July 31, and Sunday, Aug. 1, in Paynesville to advance to the state tournament for the second time in three years.

Paynesville beat Crosby-Ironton 15-0, St. Augusta 9-1, and then Menagha 2-1 to advance to the Division II State American Legion Baseball Tournament. In the district championship, Brent Heinen pitched a complete game, and Scott Braun had three hits and drove in both runs for Paynesville with a double and a solo homerun.

At the state tournament in Ely on Aug. 7 and 8, Paynesville opened with a 5-3 win against LeSueur-Henderson. Doug Fuchs got the victory for pitching six innings in relief, and Jon Lieser was the leading hitter with two hits and two RBIs.

Next up was Eyota, who Paynesville beat 7-4. Lieser pitched a complete game, and Paynesville had 14 hits with Ben Bork, Heinen, Braun, Fuchs, and Chad Fleischhacker each having two hits. Heinen had three RBIs.

In the final, the Bulldogs took a 2-0 lead against Nashwauk-Keewatin, but allowed four runs in the fifth, two unearned. Paynesville got within one, but lost the state championship 4-3. Heinen pitched a complete game, and Bork, Fuchs, and Lieser had two hits.

In addition to their runner-up finish, Paynesville returned from the tournament with the sportsmanship trophy, which is given to the team that conducts itself the best on the field and off it. "I thought it was very nice to win," said Nathan Schutz, a team member. "It showed that we represented the town of Paynesville well."

Drought ends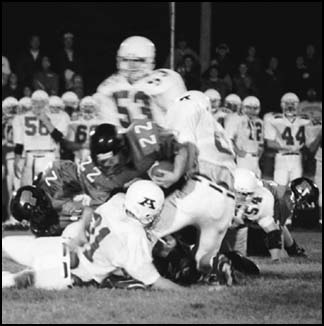 Had the Paynesville Bulldog football team played every game this fall like they did against the Albany Huskies their state tournament appearance might have made this list. After all, the Huskies are a perennial state power, who advanced to state again this year. That's why the Bulldogs hadn't beaten Albany in 20 years.
After the first few minutes on Friday, Sept. 17, Albany looked to keep that streak alive. The Huskies forced the Bulldogs to punt, blocked it, and scored on their second play from scrimmage to lead 6-0.
But the rest of the night, the Bulldogs appeared to be the state power, as they manhandled the Huskies on the line of scrimmage. The Bulldogs, who lost to Albany 60-6 in 1998, drove 76 yards in 14 plays for a touchdown and then 77 yards on 16 plays for another to take a 12-6 lead at halftime.
Ben Bork (22) carries into a pile against Albany. He and Jeff Voss (23) combined for 346 yards on the ground in the Bulldogs' win.
In the second half, Ben Bork threw a 36-yard touchdown pass to T.J. Schultz and then Jeff Voss ran 80 yards for another score as the Bulldogs dominated in a 28-6 victory.
For the game, Paynesville gained 422 yards from scrimmage to Albany's 57. Bulldog seniors Eric Habben, Steve Flint, Matt Brauchler, Josh Bork, Adam Miller, Scott Braun, Chris Sogge, Karl Ainsley, and Eric Hartfiel controlled the line of scrimmage.
Jeff Voss, who set a new school record this fall with 1,184 rushing yards, ran for 230 yards and two touchdowns against Albany. Ben Bork ran for 116 yards and threw for a touchdown.
Not every night on the gridiron this fall was as magical for the Bulldogs, who finished the season 4-5, as the night when they turned the tables on Albany and ended their 20-year drought.
---