Bulldogs lose two games at holiday tournament
This article submitted by Michael Jacobson on 1/5/00.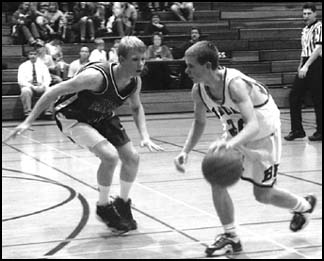 Letdowns in the second half led to two losses for the boys' basketball team in the Minnewaska Holiday Tournament last week.

The Bulldogs played Perham in the opening round on Monday, Dec. 27, and lost 88-62. In the consolation game on Tuesday, Dec. 28, Paynesville lost to the host Lakers 92-61. In both games, the Bulldogs played competitively in the first half before fading in the third quarter.

Against Perham, who the Bulldogs had scrimmaged earlier in the year, the Bulldogs trailed by nine at the half 38-29, but allowed 50 points in the second half, as Perham utilized fast-break opportunities.

Andy Jones (left) defends the ball for the Bulldogs.

Perham outscored Paynesville 26-14 in the third quarter to open a 20-point lead and advanced to the championship against Kimball, which Perham won 70-61.

Perham shot the ball better, converting nearly 50 percent of their shots from the floor, while the Bulldogs shot only 40 percent. As a team, the Bulldogs were one of 12 from behind the three-point line, while Perham made seven of 14.

Luc Trees led the Bulldogs against Perham with 23 points. Ryan Wall added 18 points and 12 rebounds. T.J. Schultz had eight rebounds, and Andy Jones had seven assists.

In the third-place game on Tuesday, the Bulldogs started both halves strong. They took an early lead before Minnewaska rallied. The Lakers led 26-14 after the first period, but the Bulldogs cut into the lead in the second until another Laker run before the half gave them a 40-30 lead.

The Bulldogs had another strong showing at the start of the second half, cutting the lead to eight and having chances to cut it further. But the Lakers ended the period with a big run to end the period, as the Bulldogs were stranded with 42 points. Despite the Bulldogs initial burst, the Lakers enjoyed a 27-12 advantage in the third quarter.

Both teams shot 51 percent from the floor, but Minnewaska took 20 more shots than the Bulldogs (66-47). The Bulldogs committed 23 turnovers.

Trees led the Bulldogs in scoring again with 27 points, including two three-pointers. Wall had 11 points and nine rebounds. Logan Louis had four assists.

The Bulldogs (2-5) played Dassel-Cokato at home yesterday. They travel to Long Prairie-Grey Eagle for a conference game against the state-rated Thunder tomorrow.

Litchfield, ranked first in Class AA, will play at Paynesville next Tuesday, Jan. 11.
| | | | | | |
| --- | --- | --- | --- | --- | --- |
| Paynesville-- | 12 | 17 | 14 | 19 | - 62 |
| Perham-- | 18 | 20 | 26 | 24 | - 88 |
| | | | | | |
| --- | --- | --- | --- | --- | --- |
| Paynesville-- | 14 | 16 | 12 | 19 | - 61 |
| Minnewaska-- | 26 | 14 | 27 | 25 | - 92 |
---