January
In just two games, the River Lakes Stars girls' hockey team scored 21 goals, including four goals in each victory by junior defenseman Marie Omann.

In a meet against New London-Spicer, the gymnastics team scored 116.6 - their highest of the season to that point - with eighth grader Anna Kotten and sophomore Tanis Beireis earning personal bests on the uneven bars, Kotten receiving fourth in the all around, and sophomore Kacy Nehowig capturing first in two events and winning the all around.

February
For what is believed to be the first time, the Paynesville Bullettes, the high school's danceline, hosted the West Central Conference meet. Senior captains Val Cellenius and Katie Holtzclaw were given All Conference honors, while junior Amanda Skalicky was named honorable mention as the team placed fifth of seven teams.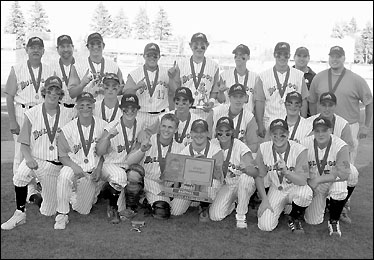 Bulldogs gymnasts celebrated reaching both of their season goals for the team, by scoring 120 for the first time in four years and having an average team score of over 115 after their last regular season meet.
The Bulldogs baseball team won their first state tile in June 2005, winning 13 of their final 14 games, including eight in a row in the playoffs, finishing 21-6. It was the Dogs' second appearance at state baseball, having finished fifth in 2002. They won the school's sixth state team title, joining wrestling (four) and cross country (one).
Sophomore Kacy Nehowig broke her own school record on the uneven bars, scoring 9.3, on her way to winning the conference title. She is believed to be the first PAHS gymnast to win an event at the conference meet, where she also placed seventh in the all around with 13th place in the other three events.
Nehowig took fourth on the uneven bars at sections and was the third Bulldog gymnast to compete at state, where she placed 26th. It was her fifth time in state competition, after qualifying as an individual three times in cross country and once in track.
Bulldog wrestlers sent six team members to state competition, where junior Sean Glenz took first and junior Joel Kerzman placed second. The team competed in the finals at sections for the 26th time in 29 years, where they lost to Pierz 15-51, but senior Jack Mueller, juniors Glenz, Kerzman, Keith Klein, and Joe Sheridan, and ninth grader Jordan Christian advanced to state as individuals. Glenz, in his fourth state appearance - becoming the third Paynesville wrestler to compete at state four times in the sport - won a state title, which was the tenth individual state wrestling title for Paynesville. Kerzman also reached the finals and placed second.
Mueller, Glenz, Kerzman, Sheridan, Christian, and senior Josh Tebben earned All Conference honors, making it Glenz's and Kerzman's third year and Tebben's second year with that recognition.
March
Jeremy Sogge, a 2002 PAHS graduate, became an All American in wrestling while helping Ridgewater College win the Division III national championship. Sogge - who placed in state competition three times for the Bulldogs - earned fourth place individually at the national meet.
Pat Neu, a 1977 NCAA champion and a 1972 PHS graduate, was inducted into the state wrestling Hall of Fame. Neu was the first Paynesville wrestler to place three times at state, doing so when wrestling was a single class.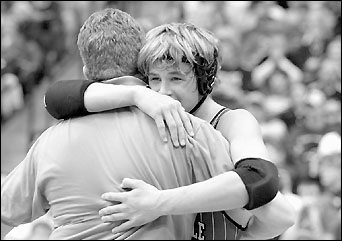 New Minnesota State High School League assignments put the high school wrestling team into Section 5A. The Bulldogs have switched wrestling sections every two years for the past six years.
Junior Sean Glenz won a state wrestling title in March 2005 in Class A at 145. It was the tenth individual title for Paynesville. Junior Joel Kerzman was the runner-up in Class A at 135 in 2005.
Academic All State honors were given to seniors Kim Hess and Kayla Mackedanz at the end of the girls' basketball season, while Hess also earned All Conference honors and extended her career assists record to 328, after breaking the previous record of 233 in her junior year. Seniors Kendra Johnson and Brittany Lieser received honorable mention for the conference. This was the second straight year of All Conference honors for Hess.
Sophomore Cory Nietfeld - who led the Bulldog boys' basketball team in scoring, rebounding, steals, assists, and blocks - earned All Conference honors.
April
A karate tournment was held in Paynesville for what is believed to be only the second time. The 75 participants included 17 from Paynesville and were separated by age and ability into groups for sparring and form.
Junior Amber Jensen won the three-team Paynesville golf meet, the opening meet of the team's season.
In the first game of the season, the varsity baseball team beat Kimball 22-4, with seven runs in the first inning in a game that ended by the ten-run rule after five innings. Senior Chris Beier allowed only one unearned run in four innings.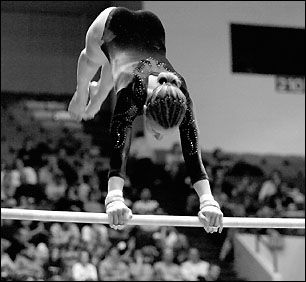 Overcoming seven teams, the girls' varsity tracksters won their home meet, placing 13 in the top three and winning five events.
Sophomore Kacy Nehowig became only the third PAHS gymnast to qualify for state in 2005. She competed at state on the uneven bars, an event in which she also won the conference title last year.
The PAHS softball team started with a four-game winning streak and ran their record to 8-1 for their first nine games.
Ninth grader Kaitlyn Frenchick and the girls' track 800-meter relay team - composed of senior Kendra Johnson, eighth graders Bri Jaeger and Kally Felling, and junior Tara Schmidt - set new school records. Frenchick won the triple jump with a leap of 33' 11 3/4", beating the previous record by 6 3/4" while also setting a new personal best time (2:28) in the 800-meter run. The relay team ran the race in 1:48.92, beating the previous record of 1:51 in their first time running it as a group this season.
The boy's golf team had the medalist at each of their first three meets, with senior Mitchell Mackedanz winning the first two meets and junior Justin Bork the medalist at the third.
May
Placing 22 times, in 17 of 18 events, the girls track team won a 12-team meet hosted by NL-S. Junior Tara Schmidt earned two of the team's five first-place finishes, recording her personal best with one and her second best for the other, while sophomore Kacy Nehowig won the 1,600- and 3,200-meter runs.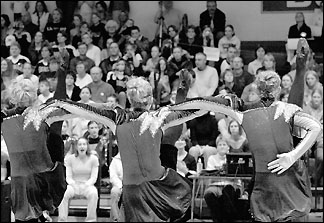 Junior Aaron Bachman and eighth grader Nathan Friederichs earned All Conference honors in boys' track when Bachman won the pole vault at conference for the second straight year and Friederichs was right behind him, in second place. It was Bachman's third straight year earning that recognition.
The PAHS danceline - the Bullettes - hosted the conference meet, which packed the gymnasium, in February 2005.
The Bulldogs rallied for a 5-4 win against #1-ranked Cathedral, beating the St. Cloud baseball team on the road for the third straight year. Seven members of the girls' track team received All Conference honors: senior Kendra Johnson, junior Tara Schmidt, sophomores Kacy Nehowig and Randi Schaefer, and eighth graders Kally Felling, Bri Jaeger, and Ann Kotten. Johnson was recognized in three events as she and Schmidt earned All Conference honors for the fourth straight year, and Nehowig earned them for the third straight year.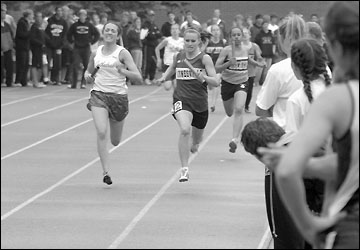 For the second year in a row, the girls' track team won their section true-team meet to advance to state, where they finished seventh, with 72 points more than at the previous year's state true-team meet. This was led by two first-place finishes in the 800-meter relay - ran by senior Kendra Johnson, eighth grader Bri Jaeger, eighth grader Kally Felling, and junior Tara Schmidt - and the 100-meter dash, which Schmidt won. Senior Mitchell Mackedanz won the individual conference title for boys' golf, with an average of 38.4 strokes per round for his five best scores. Winning the award by five strokes, he earned All Conference honors for the third straight year. He was also one of sixteen male golfers named to the All State Golf Team.
Senior Kendra Johnson held off the Cathedral runner to help the Dogs' 1,600-meter relay team win the Section 5A title and advance to state. Johnson, ninth grader Kaitlyn Frenchick, and eighth graders Kally Felling and Bri Jaeger earned All State honors and set a new school record.
Sophomore Marissa Mackedanz was recognized with All Conference honors, finishing ninth in the conference. She and junior Amber Jensen finished in the top ten individuals at subsections and advanced to sections, the first time for both.
June
The PAHS baseball team captured the Class AA state title for the first time, with the Bulldogs going undefeated through the playoffs, beating Pipestone in the Class AA championship game 8-3. In their first round at state, they beat conference-rival Albany 12-6, and then they crushed #1-ranked Hermantown 10-1 in the state semifinals.
After winning their fourth straight subsection title with three shutout games and no errors - beating Kimball 7-0, Annandale 1-0, and New London-Spicer 11-0 - the Bulldogs won two more games to sweep Section 5AA, beating Belle Plaine 15-6 and NL-S again 8-4.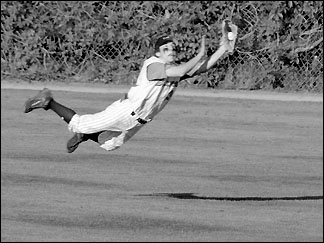 The state appearance was the second in school history; the team had taken fifth in Class AA in 2002. And the baseball team captured the school's sixth state championship. The Dogs scored 30 runs with 33 hits over the three games in the state tournament, which was held in St. Cloud. Finishing 21-6, the Bulldogs won 13 of their final 14 games.
Junior centerfielder Trent Hansen made a highlight-reel catch against Hermantown in the Dogs 10-1 state semifinal victory in June 2005.
Four players from the Bulldog baseball team earned All Conference honors and two were named All State. Senior pitcher and first baseman Justin Butkofski was named co-MVP of the conference and earned All Conference honors along with senior Chris Beier and juniors John Hemingson and Jamie Paul. Senior Mike Mueller was named honorable mention.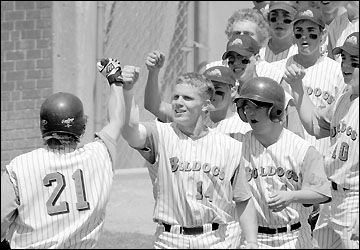 Beier, who set a new school record with ten pitching wins during the season, and Butkofski were named to the Class AA All State team, and coach Brad Skoglund was named the Class AA Coach of the Year.
Junior shortstop Jamie Paul is congratulated by junior catcher John Hemingson and other teammates after scoring the Dogs' first run at state.
Senior Kendra Johnson, ninth grader Kaitlyn Frenchick, and eighth graders Kally Felling and Bri Jaeger placed seventh at the state track meet in the 1,600-meter relay. All four earned All State honors, with Felling and Jaeger the youngest Bulldogs to ever do so. During the preliminary round, they broke the school record for the second time in the season. Their time of 4:07.77 at state beat the school record they had set in winning the section title (4:08.04). At sections, they had broken the previous record by nearly eight seconds while running as a relay team for only the second time. Johnson also competed in the 300-meter hurdles at state, after placing second in that event at sections.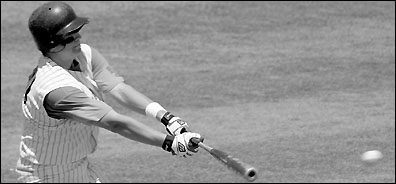 During a season in which his team members tied or broke four school records, went as a team to the true-team state meet, sent individuals to the state meet, and had a relay team place seventh in state competition, head coach Dave Randgaard was named the Section 5A Girls' Coach of the Year.
Senior Justin Butkofski, who hit .389 and went 6-1 pitching, was named co-MVP of the WCC North in 2005. He was also named All State along with senior Chris Beier, who set a new school record with ten pitching wins.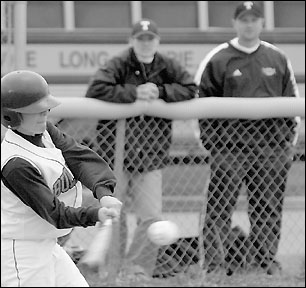 Shortstop Kim Hess, a senior on the Bulldog softball team, was named the Most Valuable Player of the West Central Conference North and was honored as part of the Class A All State Softball Team, believed to be the first PAHS softball player with that title. She batted .621, breaking school records in that as well as in most hits in a season and most stolen bases, despite playing only 18 games because three were missed due to weather. Senior pitcher Amber Chevalier and senior catcher Ashley Spanier also earned All Conference honors, while senior pitcher Val Callenius received honorable mention.
Senior Kim Hess broke a number of school records in softball, including hitting .621, and was named both conference MVP and All State in 2005.
The first-ever triathalon - kayaking or canoeing from Rice Lake to the Five Mile Bridge, biking around Lake Koronis, and running on Old Lake Road - was held during Town and Country Days.
For the first time, summer ice was available at the Koronis Civic Arena - the result of a remodeling project - which allowed hockey camps and clinics to be held there throughout the month.

Sports Year in Review, Part II
To find original stories, use the search feature.
---
Contact the author at editor@paynesvillepress.com • Return to Sports
Home | Marketplace | Community
---