Here, in chronological order, are the top five sport stories of 2001:

Wrestlers take fourth at state
In March, the Bulldog wrestling team made its 17th trip to state in the past 25 years, beating Pierz 34-21 in the Section 6A team final for the second straight year. The Bulldogs also advanced eight individuals to state: six section champs Adam Christian (112), Jeremy Sogge (125), David Kerzman (130), Jeremy Fuchs (135), Joe Hiltner (140), and Max Meagher (160), and two section runners-up Nathan Glenz (119) and Josh Schreifels (145).

At state, the Bulldogs cruised in the opening round, ruining the state team debut for Sibley East by trouncing the newcomers 49-14. The Bulldogs led 31-0 after winning the first six weight classes, including four by pin. In all, the Bulldogs won nine weight classes against Sibley East.

The Bulldogs came within an eyelash of winning on both Friday and Saturday, but were edged by Bertha-Hewitt/Verndale in the semifinals 29-26 and by Frazee for third place 32-27. The Bulldogs had leads in both matches but couldn't make it last. In both matches, a single extra winning weight class would have given the victory to the Dogs. In fact, the Bulldogs thought they had won an extra decision against Frazee, in a rematch of the 2000 title match won by the Bulldogs 24-21. Believing Meagher had escaped before the buzzer at 171, but after lengthy conferences with the referees to argue the point and then correct the score, the match was tied 6-6. Meagher lost the match he won in regulation in overtime, 8-6.

Individually, three Bulldogs placed at state: senior David Kerzman (1st at 130), junior Jeremy Sogge (2nd at 125), and senior Joe Hiltner (4th at 140).

Kerzman repeats as state champ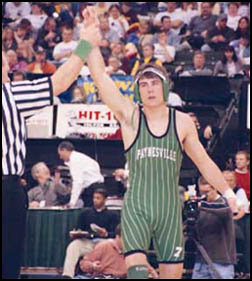 In his senior season, David Kerzman literally rewrote the Bulldog wrestling record book. In March, at the state tournament, he became the first Bulldog wrestler to win back-to-back state titles. In fact, he became the first Bulldog athlete in any sport to win two individual state titles, though this achievement was matched last fall. (See below.)
Kerzman's career achievements started before the team went to state. In January, he surpassed the career victory total previously held by Greg Schwartz (157 wins). At the end of the season, Kerzman finished his career with 178 wins. With a final record of 178-21, he also won the highest percentage of matches of anyone in Bulldog history (60 career wins minimum). "Records are made to be broken," added coach Virg Vagle, after Kerzman had broken the career victory mark held by Vagle's stepson. "(As a coach) you always hope someone else will come along."
He also now holds career records in six other categories: team points (1054), match points (2,045), pins (113), championships (30), takedowns (571), and reversals (146). And he set season records in 2001 for pins (35), match points (603), and takedowns (237). He averaged nearly six takedowns per match and scored nearly 15 points per match.
Kerzman finished the season 40-1, with the only blemish being a 6-5 loss to Milaca's Mike Weyer, who also went on to be a state champion. Kerzman became the second Bulldog wrestler to advance to state four times individually in his career and fifth to place three times. (Kerzman was fourth as a ninth grader as well as champion twice.)
At state, Kerzman won one of the best matches during the entire tournament, when he rallied to defeat Matt Jones of Lake Crystal-Welcome Memorial in the semifinal. Jones won a state title as a sophomore, but was injured when Kerzman won as a junior. In the fast-paced, high-scoring match, Jones led 8-7 going into the third period, but Kerzman took Jones down three times in the last period - once to his back - and won 15-12. "The first two periods I was letting him wrestle like he likes to," explained Kerzman after the match. "The third period I did what I like to do."
After his record-breaking season, Kerzman participated in the Minnesota-Wisconsin all-star matches and was chosen as the state's top senior 130-pounder for another Minnesota all-star team that traveled to Pittsburgh to wrestle a Pennsylvanian all-star team.
Lakers return to state in baseball
Ninth-inning dramatics propelled the Lake Henry Lakers to a second consecutive state berth in the Class C state tournament, but even more ninth-inning heroics at state weren't enough to save the Lakers from a heartbreaking loss to Blue Earth.
The Lakers' dramatics started in their first playoff series, when they eliminated the St. Martin Martins courtesy of a three-run ninth-inning rally. Jon Lieser singled home the tying run for the Lakers, and then Doug Fuchs hit a two-run homer to win 6-4.
Three weeks later, with the Lakers on the brink of elimination in regions, trailing Sauk Rapids 2-0, the Lakers rallied in the bottom of the ninth. With the bases loaded, catcher Jake Thielen, a draftee from St. Martin, grounded a single to left that tied the score at 2-2. Then Fuchs delivered another game-winning hit, doubling to right and scoring Lieser from second to win 3-2.
At Miesville, the Lakers got their first state victory in a quarter century by defeating Nimrod 6-2 in the first round, without needing any dramatics. Ken Arceneau, a draftee pitcher from St. Martin, led the Lakers by homering at the plate and striking out 12 in seven innings on the mound. Ryan Wuertz and Jeff Schmitz hit back-to-back homers on consecutive pitches in the first inning and the Lakers never trailed against Nimrod.
In the second round against Blue Earth, more ninth-inning dramatics weren't enough for the Lakers. The back-and-forth game featured six lead changes and three ties; the teams combined for 37 hits, 19 runs, and played 11 innings. The Lakers trailed 7-6 going into the ninth inning, but Fuchs and Lieser delivered again. Fuchs singled with two outs, and Lieser followed with a double that scored a pinch-runner to tie the game at 7-7.
The Lakers then scored two runs in the top of the tenth to take a 9-7 lead and were on the verge of victory, one strike away in the bottom of the tenth, but Blue Earth hit a two-run homer to tie in the 10th and scored another run in the 11th to finally eliminate the Lakers 10-9.
Girls take second in cross country
The girls' cross country team finished second in Class A in November at the state cross country meet in Northfield, posting the highest finish of any girls' team in Paynesville Area High School history. The only team to beat Paynesville at state were their neighbors from New London-Spicer, who won their second straight state cross country title by a margin of 96-107.
The girls' cross country team was making its second state appearance; its first was in 1991. While five boys' teams from PAHS have won state titles, the previous high finish for a girls' team was fourth: in golf in 1987 and in danceline in 1996. The girls' cross country team finished the season with a record of 121-3, with NL-S beating them twice and Staples-Motley (who finished third at state) once.
Once again, the team had two all-state runners: senior Jen Hess, who won the individual Class A title for the second season, and eighth grader Brooke Schmitz, who finished 17th overall, eight places better than her all-state performance as a seventh grader.
The team brought home a second-place trophy from state despite having four first-year runners on the team. Hess, Schmitz, and ninth grader Kim Hess (who qualified individually for state by placing sixth at sections) were returning runners to the team, but the other varsity runners - seventh graders Kacy Nehowig and Tanis Beireis and juniors Mandy Mayer and Nicole Flint - were new to the sport this fall.
Hess wins second title, signs with 'U'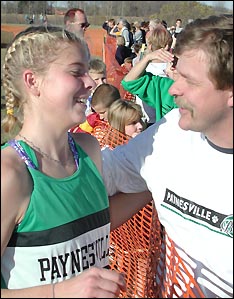 Senior Jenny Hess found Division I universities vying for her to enroll next year even before she became the state's 22nd cross country runner to win back-to-back state titles. Hess, who now has nine top-three finishes in cross country and track, was recruited by Minnesota, Michigan State, Tennessee, Vanderbilt, and Duke. Hess, also a straight-A student, signed a national letter of intent and accepted a full scholarship from the University of Minnesota later in November. According to Press records, next fall she will become the ninth Paynesville athlete to compete at the Division I level.
Hess is the second PAHS female athlete to win a state title and the first to win back-to-back titles. She joined wrestler David Kerzman as the only Bulldog athletes to have won back-to-back state titles.
In her last two years, Hess lost only one race, to Minnehaha Academy's Lauren Breuberg at the Princeton Invitational this September. Hess avenged that loss at state, reeling in Breuberg who took an early lead, racing past her up a hill, and cruising to victory as Breuberg fell back to eighth.
Hess' coaches stressed that her two state titles and 30 race victories in the past three years aren't the most amazing thing about this cross country runner from Lake Henry. "What makes her one in a million is her athletic ability and her scholastic ability," said assistant coach Rick Houske. "What makes her one in ten million is she doesn't act like one in a million."
Honorable Mention
•Jim Loomis, who worked in the Paynesville school system for more than 30 years, was recognized for his role in changing high school sports departments by being inducted into the Minnesota Athletic Directors Hall of Fame in March. Loomis taught science for over 20 years while coaching football, basketball, and golf and serving as the district's athletic director. In 1978, the school board approved making him an athletic administrator, relieving him of his classroom duties. At the time, the position was novel, and Loomis shared his job description at a state conference. Athletic administrators are now the norm, and are referred to as athletic directors even though there is a difference.
•The Roscoe Rangers retired their first number in May: #15 belonging to Don Heinen. Heinen was recognized for his 35 years with the team, including more than 20 years as a player and two stints as manager.
•Last spring, the varsity softball team had its best season in two decades, posting a 9-9 overall record and 6-6 in conference. The team has the best record since 1981. The Bulldogs outhit their opponents 140-113 and outscored them 153-141. Eighth grader Kim Hess tied a school record with 21 stolen bases. Senior Mellody Veldkamp led the team by batting .351.
•The boys' and girls' track teams enjoyed successful seasons. Both won the conference title and combined to send 28 athletes to sections, where the boys repeated as the team runner-up. Four athletes qualified for state in June: junior Nic Glenz (pole vault), junior Jen Hess (1,600- and 3,200-meter runs), senior Clayton Lang (1,600-meter run), and junior Josh Trees (triple jump). They earned four state medals with Hess winning second- and third-place medals; Trees taking second in the triple jump; and Lang placing fourth in the mile run.
•Cross country coach Darrel Carstens was honored in August as the Class A Boys Coach of the Year for 2000, when he led the Bulldogs to a state title.
•The Bulldog football team finished with a 6-4 record, aided by an offense that set five school records: total offense (3,049), rushing yards (2,709), rushing attempts (519), most plays (582), and total yards (3,942).
Senior Ryan Schneider also broke the school record for career kickoff return yardage with 618 yards. The Dogs set a single season record of 618 yards on kickoff returns.
•Wrestling coach Virg Vagle recorded his 600th career win in December. Vagle now has a record of 603-122-5 in 36 years as the varsity wrestling coach. He led the Bulldogs to four state titles. He is the winningest coach in state history, and in the nation, according to The Guillotine.
---
Contact the author at paypress@lkdllink.net • Return to Sports
Home | Marketplace | Community
---