The following ten stories, in chronological order, are the events the Press has identified as the top local sporting accomplishments of 2002.

Engen wins state title
Marty Engen, then a junior, became the eighth Bulldog wrestler to capture a state title in March 2002 by taking first place at 189 in Class AA. Engen won four matches at state to capture the title, defeating Matt Heger of Waconia/Mayer Lutheran in the final 4-3.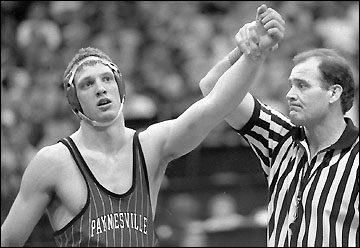 Junior Marty Engen became the eighth Bulldog wrestler to win a state title when he claimed the Class AA title at 189 in March 2202. Engen, a transfer from BBE, earned his 100th career win in December 2002.
Engen joined Steve Fuchs '79, Gerald Garvick '86, Greg Schwartz '91, Brad Fenske '92, Scott Hoeft '92, Lee Hiltner '96, and David Kerzman '00 and '01 in winning state titles for the Bulldogs. Engen is also the second wrestler to win a state title for the Dogs after transferring from BBE High School, joining Hiltner.
Engen finished his junior season with a record of 43-1. His only loss was in double overtime to Justin Sorenson of Owatonna, who took second at 189 in Class AAA.
In all, five Bulldogs qualified for state individually in March 2002. (The Bulldogs lost to Litchfield in the section final as a team.) Senior Jeremy Sogge placed sixth at 125, tying the school mark by earning his third individual medal. Sogge finished his senior season with a record of 41-5 and finished his career with a record of 170-40. He is second in career victories for the Bulldogs.
Senior Nathan Glenz (135), who finished his career with a 113-49 record, junior Ryan Glenz (171), and eighth grader Sean Glenz (112) also competed at state for the Bulldogs.
In December 2002, Engen won his 100th career match, becoming the 24th Bulldog wrestler to do so. In 2003, he could become the second Bulldog wrestler to win back-to-back state titles, joining Kerzman.
Bulldogs take fifth in first state baseball appearance
The Paynesville Bulldogs baseball team finished the regular season in May 2002 with a record of 7-11, but they were just getting started. The Dogs played their best baseball in the playoffs, became the first team from Paynesville to advance to the state baseball tournament, and won two of three games at state to finish fifth in Class AA.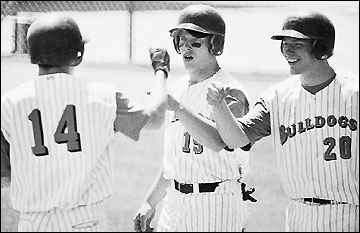 Seeded second in their subsection despite their losing record, the Dogs swept three games - beating NL-S 9-0, Rockford 5-2, and Annandale 9-3 - for the subsection title.
At sections, the Bulldogs lost their first game but then won three straight to advance to state. Needing to beat Waconia twice, the Dogs won 10-9 in the first game, scoring five runs in the top of the seventh and then stranding the tying run at third in the bottom of the seventh. In the second game, the Bulldogs won 3-2 in extra innings, scoring two runs to win the game in the eighth inning. At state in St. Cloud in June, the Bulldogs lost to Blue Earth 14-9 but beat Jackson County Central 7-5 and St. Cloud Cathedral 13-5 to take fifth place in Class AA.
Junior Josh Kampsen, who had eight hits in 13 at bats, was named to the all-tournament team. Other key performers at state were senior Nic Fuchs, who had six hits in 11 at bats, and senior Jeremy Fuchs, who pitched 12 innings and earned a win and a save.
The Bulldogs finished the season with a record of 15-13.
Trees, Hess win state titles
Seniors Josh Trees and Jen Hess earned gold medals at the state track and field meet in June 2002. Trees won the Class A triple jump, and Hess won the 3,200-meter run.
Trees, who took second at state in the triple jump in 2001, was the top seed, based on his leap of 46 feet at sections, which set a new school record and broke a section record from 1985. At state, his best effort was just under 45 feet, but that won the state title by two feet. In fact, Trees had the six longest jumps at state, including four over 44 feet.
He became the first PAHS male trackster to win a state title and joined Hess and Tiffany Karsch (high jump in 1993) as the only Dogs to win state titles in track and field. Trees also ran on the 400-meter relay with seniors Nic Glenz, Adam Schaefer, and Ryan Whitcomb. They placed seventh at state.
Hess won the 3,200-meter run and was second in the 1,600-meter run. She finished her high school running career with 12 state medals (four in cross country and eight in track) and three state titles (two in cross country and one in track).
Senior Melissa Bachman also earned a spot on the medal stand, placing fourth in the pole vault. In her third trip to state, Bachman cleared 10' 3" to take fourth. She set new school records in the pole vault indoors and outdoors last spring.
Lake Henry pitcher killed in farm accident
Standout Lake Henry pitcher Lynn Hemmesch died in a farm accident in August 2002. Hemmesch, a 1978 graduate of Paynesville High School, was selected all-conference in baseball for two years and played for the outstate team in the Lions All-Star Game, where he roomed with Kent Hrbek. In his three-year varsity career, Hemmesch had an ERA of 1.49 and a record of 14-13. As a junior, he pitched the Bulldogs to the district title, throwing a one-hit shutout in the district final, as the Dogs beat Dassel-Cokato 1-0. The Dogs lost in regions that year to St. Cloud Cathedral, the eventual state champ. Hemmesch had an ERA of 1.12 as a junior and 1.19 as a senior.
He also earned all-conference honors for two years in football and wrestled as well.
Hemmesch, who farmed around Lake Henry, played amateur baseball for Lake Henry and Regal for more than two decades, including a stint as manager for Lake Henry.
Roscoe pair honored
Two long-time Roscoe Rangers were honored with awards in September 2002. Art Schlangen, a 1972 PHS graduate, was honored as one of the recipients of KARE-TV's Eleven Who Care Awards. Heinen, a 1971 PHS graduate, was one of five inductees into the Minnesota Amateur Baseball Hall of Fame.
Schlangen, a three-year letterwinner in baseball, cracked the Roscoe Rangers' lineup at 17, but his playing days were cut short by a car accident that broke his back, damaged his spinal cord, and left him paralyzed from the waist down. Instead of playing, he has served as a youth baseball coach (for both Roscoe's Little League and American Legion teams) for nearly 20 years.
Schlangen judges success in youth baseball by having fun, trying to improve, and practicing good sportsmanship, not merely by a win-loss record. "According to that," he said, laughing, "I'm the worst coach there is. My record is bad."
Heinen became the second member of the Roscoe Rangers to be inducted into the Hall of Fame, joining Schlangen, who was inducted in 1993. Heinen started suiting up for the Rangers in 1967, at the age of 14, before he played for the high school team. He played every position except catcher in his career, including a dozen years at shortstop, and was named a Stearns County League All-Star 13 times. He took his last at bat for the Rangers in 1995, 29 years after first joining the team.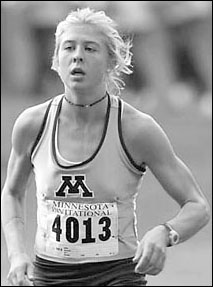 In addition to playing, Heinen has managed the team twice, has helped maintain the ball park, and has served as the baseball club president and as the public address announcer, a job he still holds.
Hess runs for Gophers
Jen Hess became the ninth local athlete to compete at the Division I level when she joined the women's cross country team at the University of Minnesota in the fall of 2002. Hess, a three-time state champion in high school, earned a full athletic scholarship and a place in the varsity lineup in her freshman season.
The Gophers started the season ranked 17th in the nation, but slipped in the national rankings due to injuries. Hess, a 2002 PAHS graduate, finished the season as the Gophers' second runner in November at the NCAA Midwest Regional, covering the six-kilometer course in 21:45 and taking 34th.
Her highest finish this fall was fourth overall at the Iowa State Invite, covering the four-kilometer course in 14:27, or nearly 30 seconds faster than the time she covered the same distance at state a year ago when she won her second high school cross country title.
Schefers cheers for U of M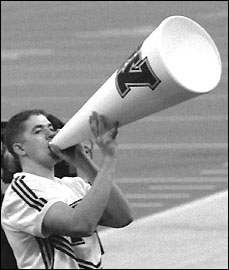 Jen Hess wasn't the only PAHS graduate representing the Gophers this fall. Jon Schefers, also a 2002 PAHS graduate, was one of two freshmen on the 16-member co-ed Maroon Spirit Squad, which cheers on the sidelines for home Gophers football and men's basketball games.
For home football games, the spirit squad, which also attended the Gophers bowl game in Nashville, was on the sideline throughout the game: leading the team onto the field with the Gophers' flag, doing stunts, yelling cheers, racing around the field with the flag after the Gophers score, and holding Goldie Gopher while he does pushups after the Gophers score.
For basketball, the squad will do some cheers and stunts on the court during the pre-game, halftime, and breaks in the action, and they will also lead cheers in the stands from their corner by the pep band.
Lifting and tossing stunts take more than muscle. According to Schefers, it's a misconception that the male cheerleaders are just big brutes. "What a lot of people don't understand is it's a lot of technique," he explained.
Schlangen rolls 300 game
Dean Schlangen bowled the first perfect game in Paynesville in November 2002, hitting 12 strikes in a row to score 300. The previous high bowling scores in Paynesville were 299s by Don Weber and Gene Martinson, according to Rick Block, who owns the Koronis Lanes, where Schlangen rolled his perfect game.
Schlangen, a 1996 PAHS graduate, who grew up and lives in the country between Roscoe and Paynesville, considers himself a streaky bowler. He had bowled 208 in his first game that night and 173 in his second game. His 300 in the third game gave him a series of 681.
Prior to his perfect game, his previous best game was 268, a game in which he had eight strikes in a row. "I would have bet $1 million that I never would have a perfect game," he said. "I knew I could strike, but I never thought I'd get 12 in a row."
Football team sets records
The Bulldogs football team broke seven school records during their 3-6 campaign in 2002.
Senior Milan Virant set three school records on the football field this fall: most rushing yards in a single game, most rushing yards in a season, and most rushing yards in a career. He set the new mark for rushing yards in a single game against Morris in October with 310 yards on 43 carries, scoring four touchdowns on rushes (and also returning a punt for a touchdown). The Bulldogs' previous single-game rushing record was held by Brandon Wensman, who ran for 264 yards in a game in 1996.
For the season, Virant tallied 1,203 rushing yards, which broke the single-season record held by Jeff Voss, who rushed for 1,184 yards in 1999. Virant carried the ball 259 times, averaging 4.6 yards per carry, and scoring 14 touchdowns.
Virant broke the school's 30-year-record for most rushing yards in a career. In three years on the varsity, Virant ran for 2,569 yards, breaking the career record of 2,318 yards held by Max Thompson (set from 1969-71). Senior Kevin Mehr broke two school records this fall: most return yards in a single game with 131 and in a season with 577.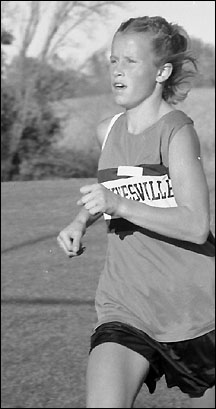 As a team, the Bulldogs set two new offensive records: team rushing yards in a single game with 503 yards against Morris and total offense for a single game with 506 yards against Morris.
The track teams set five school records in 2002: senior Melissa Bachman, 9' 9" in the indoor pole vault and 10' 6" outdoors; senior Jen Hess, 5:14.2 in the indoor 1,600-meter run; senior Heidi Jansen, 36' 6" in the shot put; and senior Josh Trees, 46' in the triple jump.
Gymnast Kacy Nehowig, an eighth grader, set a new school record on the uneven bars in December 2002, scoring 8.8.
Girls advance to state in cross country again
The Paynesville girls' cross country team advanced to the state meet for the second consecutive year in 2002. The Bulldogs beat St. Cloud Cathedral for the first time all season to claim the Section 5A title in October 2002 and earn their third trip to state overall and second in a row. The Dogs were second in Class AA in 2001.
The Bulldogs advanced to state again despite having three new runners among the seven in their varsity lineup. The young team had only one senior runner, with the rest of the team being seventh, eighth, and ninth graders.
At state, the team had an off day, and finished ninth overall. They were ranked sixth going into the state meet and hoped to place in the top three in Class AA.
Eighth grader Kacy Nehowig (pictured at right) led the team by placing 18th overall and earning All State honors.
Coach Darrel Carstens, who took his ninth cross country team to state, was named the Class A Girls' Coach of the Year in 2002, after leading the Bulldogs to a runner-up finish as a team in 2001 and coaching Jen Hess to the individual state title.
(Editor's Note: the Press has identified these stories as the top sports in the Paynesville area for 2002. For the top news stories, see the 2002 top 12 news stories.)
---
Contact the author at editor@paynesvillepress.com • Return to Sports
Home | Marketplace | Community
---