A Minute With Mike
This article submitted by Michael Jacobson on 12/17/96.
August 27, 1996

Their day starts early, before the sun rises over the mountains, with what's optimistically titled "Work Parade." From under my wool blankets, I can hear their muted conversations and the whiffs of their grass knives.

After a half hour of manual labor, at 6:30 a.m., the bell brings reprieve and marks the start of another regimented day.

They have 45 minutes to wash and get dressed for school, and it takes 15 minutes to walk to the river. Breakfast is at 7:15 a.m., and they are supposed to be in their respective classrooms by 7:45 a.m.

The 40-minute lessons begin at 8, and are in English, their second or third language. The students stay in the room all day, except for special classes, and the teachers rotate. Their only break is the time it takes the next teacher to arrive, which sometimes is all hour. Six classes fill the morning, and a couple more happen after lunch.

After school, they get another chance to toil ceremoniously with an hour more of work parade. Then they have an hour to wash clothes and themselves before dinner. Night study starts at 6:30 p.m. and they're supposed to be in bed shortly after it's done.

There's not a lot of fun and games in the schedule for students at Lumi High School. They do play sports one afternoon a week, the weather and the sports master's mood willing. They also have one double period of phy. ed., but otherwise it's pretty heavy on work and school and whatever entertainment they can improvise.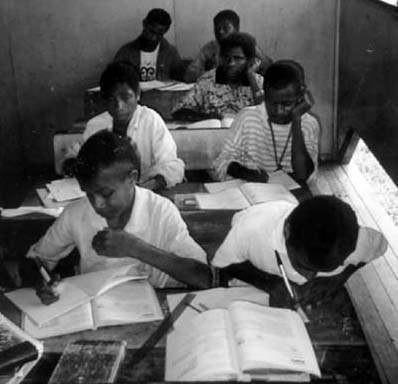 That's only the schedule, and it doesn't always work exactly like that. Schedules are generally regarded rather loosely around here. The "Enlightenment" hasn't pervaded the cultures, so people don't feel compelled to measure and control time, distance, or temperatures.
On weekends, because money is tight and food is short, they have to go home. For many, this means walking for six hours on Friday, only to turn around and be back by Sunday afternoon.
Though their education is the school's primary purpose, they are noticeably second-class citizens here. School rules have a tendency to be ignored when they relate to teachers and applied in full force to students. In one telling episode, a teacher screamed out of the staff room windows at some students returning late from recess. All the teachers were still sitting around the table, as it's their custom to take an extra ten minutes for morning tea. Somehow, though, it's vital that the students are on time.
Living quarters for the students are cramped, with some students without beds. Their diet consists of bread, rice, and canned mackerel. If we run out of flour, they eat rice and tin fish three times a day. This makes the bland native diet appear gourmet.
They are frequently yelled at and must do extra work for rules violations. As with any boarding school of 280 students, there are some serious discipline problems, but for the most part they're good kids: bright, eager to learn, obedient, respectful.
They're the elite. Only 70 percent of kids even start school here, and they are pushed out as they move along. For most, this will be the end of their education. Presently only one percent of the population attends grades 11 and 12, compared to 70 percent graduation rates in America.
They make my day everyday. They stand up and greet me. They're quick to flash their bright smiles. They want to learn. They work hard at their math, though the difficulty of the subject is compounded by cultural differences.
The sight of students cutting the grass on the soccer oval is proof enough that I'm a long way from home. One morning it came home even more clearly. All the students were required to show their class captain their grass knife, so each of my grade 9 students filed into the room carrying a three-foot sword-like tool. That's a big difference from metal detectors at the school door and a no-blade policy.
(Michael Jacobson was a reporter for the Paynesville Press before joining the Peace Corps.)
Return to 'Minute With Mike' Archives
---