Paynesville Press - August 14, 2001

View from the Lake

Memories about summers on Lake Koronis are still vivid
By Linda Lorentzen
One of the benefits of writing this column has been the people I've met and the stories I've heard. Granted, I may still have met the same people, but I wouldn't have recorded my conversations with them. Years later I wouldn't have had the information to share in the column. Such was the case when I interviewed a mother of one of our neighbor's at the cabin on July 27, 1994.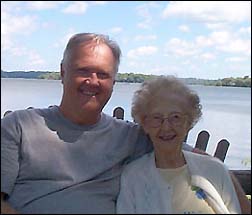 Lucille Luther Rasmussen (pictured at left with her son, Jim) has had ties to Lake Koronis since 1923. It all began when her parents went out for a drive because her mother, Mamia Luther, needed to get out of the house. She had been having headaches and felt a change of scenery might help. Her parents stopped at an auction because her father knew the auctioneer. Bidding began on a piece of property with an old house, which had been used as a barn many years ago. "My mother bid up to $325, which was a lot then, and the auctioneer kind of gave it to her. That was the first lot that was auctioned. My aunt bought the lot next to my mother's. My father was still not saying anything. The auction went on and then the last lot was to be auctioned. My father thought he'd help the auctioneer on the last lot and build up the bidding. He ended up with the highest bid! So, then we had the three lots. Unfortunately, my aunt went to California and didn't pay her taxes on the middle lot. Cecil Bennett found out about it, and bought the lots from the county. My father didn't want to have somebody building a fishing resort in between his two lots, so, he bargained with Cecil Bennett for the middle lot. They exchanged the middle lot for the one on the end."
A farmer, Mr. Smith, was hired to remodel the 80-year-old house. A 15-foot porch with windows on two sides was added and that allowed 15 people to sleep. "The old house was all hard wood, even the hayloft. So, we converted it into a bedroom on the lower level and the upper level was a balcony that the kids all slept in. We put in windows across the front that you could pull up with a pulley, so the children could get fresh air. They had to learn how to climb up a flat ladder to reach the upper level and they loved it."
Their cottage was located on the north side of the lake near the turn off to Old Lake Road from Highway 55. "Our place was on the other side of the road from the lake. We lost a dog that was hit by a car. Luckily none of the children were hit. They had to be very careful."
During the summers Lucille's father and uncle traveled back and forth the 35 miles to St. Cloud. "They would stay home in St. Cloud for a couple of days, then come out on Wednesday, they would go home for Thursday and Friday and come back out for the weekend. Mother, her sister, and all the children stayed all week. I did, too, until I went to summer school. When I went to college in St. Cloud, I would drive out on weekends and always had a bunch of kids with me. I don't know how my mother did it. On the loft we would have the boys on one side of the curtain and the girls on the other side. They called the curtain 'The Walls of Jericho!'"
Her father loved to fish and often went fishing for sunfish and bass around Peterson's Point (Stony Point). "My father would take us fishing as little as we were. He would also let us take his duck boat and go down to the inlet to pick great big white lilies. One time we saw a great big fish just lying in the sun. We said, 'what shall we do? If we move, it's going to go.' The fish heard us talking and it was gone! He was a big one, maybe a muskie." After her father retired, he was able to spend entire summers at Koronis. Although he never caught "an awful lot, he always took the kids out to fish. My youngest son, Jim, fell off the dock one day. He was fishing with his grandfather. My father just reached down and pulled him out of the water by his hair."

Because the weeds were thick in front of the cabin, the children often traveled to Van's Beach for swimming and entertainment. "Everyday, sometimes twice a day, we would go to Van's (pictured at right), the public beach where you had all the swimming, ice cream cones, all day suckers, and the Holiday suckers [caramel and chocolate together] which would last all day. If we were good when we were down there, we could have one. Van's had a copper slide, diving tower, and a raft."
Lucille was married in 1938 and lived away for a while. She "tried to get down for the summers while my folks were there. So, for about 14 years, from 1938 to 1954, we had contact with the lake but after that I just came once in a while when I was in the area." Years later, she toured the lake with her son to try to buy property before she retired. "I had no idea that the prices had gone up so much. I never did find any property to buy."
Lucille comes as often as possible to Lake Koronis with her son, Jim and daughter-in-law, Joyce to their cabin on the lake. She notes that, "It has been a wonderful time in my life to experience Koronis again." She continues to be active and assures me that she has many more memories to share about the history of the lake. I look forward to more interviews with her, sharing her memory-filled view from the lake.
---
Contact the author at paypress@lkdllink.net • Return to Viewpoint
Home | Marketplace | Community
---