A View From The Lake 7/31/96
This article submitted by Linda Lorentzen on 7/31/96.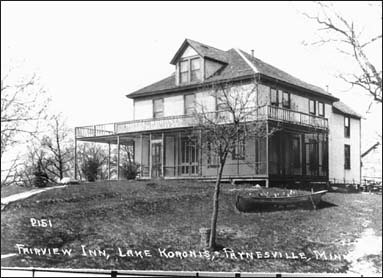 The first meeting of the Lake Koronis Improvement Association was held in March 1897. How to establish the first hotel on Lake Koronis was the primary discussion topic. Building a dining hall and then securing cottages and tents for sleeping was the most popular idea. Cost of building a dining hall was thought to be under $200. Possibilities for raising funds included private subscription. t the time. At the time, retired commercial traveler, C. H. Dixon was interested in "conducting" a hotel at Lake Koronis. He had already established roots in the area, running a hotel at Kimball, Minnesota. At this first meeting the other order of business was how to furnish boats and fishing tackle at the lake. L.R. Abbott an C. Gerolamy reported about their soon to be launched steamboat, as well as their intention of "putting on a fleet of boats and furnish tackle."
In January 1898 The Press again brought before their audience the idea of procuring a hotel at Lake Koronis. The Lake Koronis Improvement Association had been established, but their efforts had proved unfruitful, due to difficulties in financing. The Press wanted the hotel started on a small scale and then enlarged as the business expanded.
Dr. Pilon and R.P. Gilbert were two outspoken supporters of a hotel on Lake Koronis. In the New Paynesville Press Dr. Pilon said, "I would very much like to see a hotel put up at the lake this summer and I believe it would be a success. These summer hotel buildings are generally put up very cheaply... and I believe a structure, amply sufficient for all purposes, for the first season at least, could be put up for $500 or $600. It would be a great benefit to the city and bring in a good deal of outside trade. I hope to see the matter taken up very soon." R.P. Gilbert, a prominent citizen, reported, "while I did not expect to run a hotel of my own at the lake, I know a good family that I could place in charge who would run it satisfactorily and well. There should be something done at once towards providing accommodations...but outside capital cannot be expected to come here and invest without receiving some substantial encouragement. The plan of selling tickets at $5 each, good for one week's board as told in The Press of last week, is practically what I had in mind and I feel sure that if a number of tickets could be sold under these conditions, that a hotel could be secured. If the lake is ever going to be furnished with conveniences and effort be made to draw outsiders to it, something must be done at once."
In May 1898, R.P. Gilbert sold his new cottage and 120-acre farm to Mr. Parsons of Grove City. With the sale, the hopes that their house would be opened to summer boarders, and thus a hotel, surfaced again. Supposedly, this was not the Parsons' intention, but citizens felt with some encouragement, they might reconsider.
No further action in establishing a hotel was recorded until February 1902. At that time the Lake Koronis Hotel Company had received applications from eight families who desired board at Koronis during the summer. Among these was a woman from Iowa who wanted to "bring a whole colony to the lake." She needed to know how many cottages and tents she could obtain for all summer.
By the end of February 1902 the directors of the Lake Koronis Hotel Company had accepted plans from the St. Cloud architect for a summer hotel. They were then able to receive bids for the construction of the building. Correspondence was done with two men who had indicated a desire to furnish and run the hotel. By March 1902 the Lake Koronis Hotel Company had received a number of applications for accommodations. C.W. Conkling of Tekamah, Nebraska even made a $50 cash donation to aid in the building of a hotel. In April 1902 an order for lumber to be used in hotel construction was placed locally with Huntington & Boylan.
Meanwhile, N.O. Parsons announced he would not open his home at Lake Koronis for summer boarders, as had been done in the past.
The contract for construction of the hotel went to Hoganson Brothers of Irving. Completion date was set for May 20, 1902 and W.A. Huntington was the superintendent of the project. The site for the hotel was selected as the high ground midway between the old and new landings.
By June 19, 1902 the hotel had been completed but the board of the Lake Koronis Hotel Company had difficulty finding a landlord who was "willing to take it at least partially furnished. It may be necessary to call upon the businessmen to provide a small fund for this purpose, and it ought to be forthcoming without a complaint." By July 24, 1902 all available rooms in the new hotel had been engaged. Even the "home folks" from New Paynesville inhabited the hotel. Just a few of the local guests included: Alex Chisholm and family, Florence Haines, and Arthur and Arlie Ostrander.
In January 1903 the Lake Koronis Hotel Company met, elected officers, and determined to get the hotel in running order for the 1903 season. By February 1903 the shareholders authorized the directors to sell the hotel and property, as several prospective buyers had submitted offers.
By May 12, 1904 N. W. Rice purchased the Lake Koronis Hotel Company's Far View Inn. Mr Rice also purchased the Parson's farmhouse, which he intended to use for additional boarders, if necessary. The Rices had proven themselves successful in hotel management, as they had been in charge of affairs in New Paynesville's successful Hotel Koronis. The community felt that "Far View Inn" will be a popular resort for those who delight to spend a portion of the summer at Koronis. In the process, the Far View Inn provided many lucky tourists a view from the lake.
Information for this column was taken from the following issues of the New Paynesville Press: March 23 and June 3, 1897; January 27, February 10 and May 19, 1898; February 12, February 20, March 6, April 10, April 24, June 19, June 24, July 31, 1902; January 15, February 12, and May 12, 1904.

---