Father and son enjoy successful caribou hunt
By Ellarry Prentice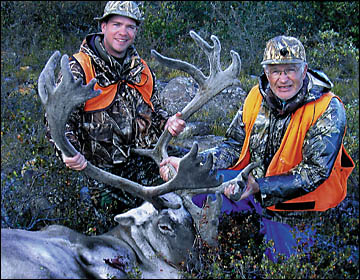 "It's like no place I've been on earth," said Greg Hansen, who went with his dad, Mike, on a caribou hunting trip to Canada this summer. These first-time caribou hunters stayed for six nights at a camp in northeastern Quebec where they hunted, explored, and enjoyed some quality father-and-son-time.

Mike and Greg have both been to Canada several times to fish, but this time they decided to try caribou hunting with a recommended hunting organization called Club Chambeaux.

Greg and Mike Hansen, both of Paynesville, enjoyed a four-day caribou hunting expedition in northern Quebec, Canada, over Labor Day. The father-and-son pair each killed two bull caribou and brought home 225 pounds of meat. They camped near Retty Lake and hunted with nine other hunters for their first caribou hunting experience.

The father-and-son-pair, who live in Paynesville, were very pleased with their hunting location near the Georges River. "It was phenomenal," said Greg. "Everything was beyond what I had expected." Greg, who does a lot of traveling with his work, said the area of Quebec was different from any place else he has traveled.

Mike and Greg were among a group of 11 caribou hunters at the Club Chambeaux camp over Labor Day. The area where they hunted is located just east of the Hudson Bay and roughly 1,000 miles north of Montreal. They hunted for three out of their six days in Quebec with a group of two other men and a local hunting guide.

Primarily, the Hansens hunted within four miles of the camp. The area where they hunted contained no trees and was very rocky and barren. Caribou were among the only animals who roamed the land. Unlike deer, the caribou walked with the wind and hunters had to look uphill instead of downhill to spot them.

"You can see them a mile off," said Greg, since there are no woods in the area. The caribou mainly stand in the open areas and eat lichen, a green algae found amongst some of the barren land.

"We were really surprised at how readily they could swim. The caribou couldn't go very far without crossing the lake," said Mike. When caribou swim, they hold their body above the water and use their thick fur as a lifejacket.

Caribou in Quebec usually migrate in the beginning of September. "We were there before they started to migrate," said Mike, who added it was nice to hunt the local caribou. Since caribou are migrating animals, Club Chambeaux's hunting camps are located directly within the caribous' migrating route for easy hunting access.

Their young hunting guide predicted the location of the caribou very well, Greg explained. He also received updates of the caribous' location from other guides in the area. Many of the caribou that were spotted were bulls, or males, and generally they were seen in the early morning or after 2 p.m.

A majority of the hunting was done by intercepting the caribou, and some hunters used spot and follow techniques. Over the last 100 years, Mike explained, permanent trails have been made by the caribou, which also helped track their location. Caribou can be as predictable as the weather, added Mike.

Greg and Mike each shot their first caribou at the same time. Two bulls were walking together with the wind, and Greg with a muzzleloader and Mike with a standard rifle each shot a bull.

After the kill, their hunting guide skinned and quartered the meat, and since they did not have refrigeration units at camp, he transported the meat to a cool cabin to be stored near the lake.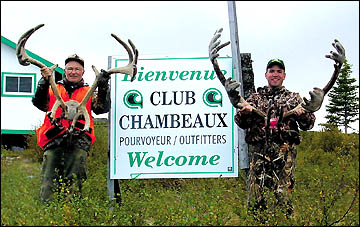 Hunters could chose to have one caribou caped (prepared for taxidermy) per group of two hunters. Greg choose to have his caribou caped, which was part of a service they bought with their hunting package. Quartering took the hunting guide a quick four minutes per animal, but caping took much longer, since the length of time it takes to cape depends on what an individual wants to have mounted.
Mike and Greg Hansen enjoyed their Canadian caribou hunt through Club Chambeaux, an outfitter that erects temporary camps for hunters along routes where the caribou migrate.
After quartering and caping, Greg and Mike had to remove the velvet from the antlers. If the velvet is not treated or removed, the antlers will rot, they explained. After the velvet is removed, antlers are placed in a lake for a few days to rid them of blood.
Greg and Mike each got another caribou later in the week, which made their kill limit of two caribou per hunter. A total of 18 bulls were killed within the group of 11 hunters that week. "We got the bigger bulls right behind camp," said Greg.
In Club Chambeaux camps, hunters are guaranteed a chance to shoot a caribou. If a hunter is unable to shoot a caribou, they will be relocated to other areas or camps until they do so.
Their caribou meat was processed in Montreal. Locals told Greg and Mike that cows produce better tasting meat than bulls, though Greg and Mike were very satisfied with the quality of their meat. "I have been very pleased. I think it's better than elk," said Greg.
Both Greg and Mike had over 100 pounds of processed caribou meat each. However, because of weight restrictions on the airplane, they couldn't bring all of their caribou meat home with them, so they gave the rest to the local foodshelf.
Despite their love for Canadian lakes, the Hansens only went fishing once on their trip. The area in Quebec, they explained, is fantastic for lakes, but Retty Lake, near their Club Chambeaux camp, doesn't draw many fisherman. They also spent some time exploring areas of Quebec and observing dozens of different animals.
The best part of caribou hunting, they agreed, was being in an area of Canada that they had never been before. "Just being in the tundra area and the difference in the wildlife and terrain, " said Mike.
"We really enjoyed it. Everyone got along well and had a good time," said Greg.
Greg and Mike would like to return to Quebec to hunt caribou in the near future. If they have the chance to go again, Greg explained, they probably wouldn't do anything different.
---
Return to Hunting Index