New London man enjoys successful pheasant hunt

Imagine exploring the woods and fields on a crisp fall weekend. Perhaps there is a faithful pointing dog at your side and pheasants barely visible in the brush.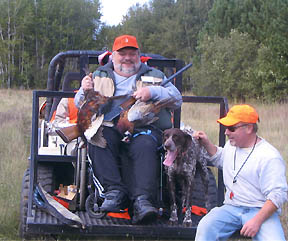 That's exactly where Fred Paul of New London found himself one weekend this September. Many people with disabilities experience this glorious moment in nature only in their imagination, but this dream became a reality for Fred when he was chosen to be a participant at the Minnesota Broken Wing Connection Pheasant Hunt Invitational.
Fred Pauls of New London was selected for the Minnesota Broken Wing Connection Pheasant Hunt Invitational in September, scoring these pheasants near Pine River, Minn.
The Minnesota Broken Wing Connection is a nonprofit organization for physically disabled individuals that was started in 1992 by two cousins with a disease of the nervous system that impairs their mobility. The organization sponsors a hunt of upland birds for the physically disabled, whose hunting activity is normally limited due to the terrain involved, the distance traveled, and the pace required to keep in step with a hunting dog.
The nonprofit organization hopes to attract individuals who have been unable to experience outdoor shooting activities because of their disabilities. Applications are accepted from across the United States and Canada with a lottery in late June.
To qualify, each applicant must establish proof of a physical disability that limits their ability to hunt upland birds. Each invited hunter is eligible to take part in the event only one time, making this a once-in-a-lifetime opportunity.
The event is held on a hunting preserve 20 miles west of Pine River, Minn. The preserve provides three hunting fields, a trap range, base camp, 3-D archery range, and other outdoor activities. Custom-made platforms attached to all-terrain vehicles moved hunters across the rough terrain and to the various activities.
Except for transportation to and from Pine River, the event is free to each invited participant. Through donations and fundraisers, the organization covers the cost of meals, lodging, birds, shells, skeet, and general operations for the three-day event.
Through sharing, caring, and experiencing what the outdoors has to offer, hunters and volunteers live up to the Broken Wing Connection's motto: "Never Say Uncle."
For more information about the Minnesota Broken Wing Connection, contact Verna Gertgen via mail at 11620 94th Avenue, Spicer, MN 56288 or via phone at 320-796-5710.

Opportunities for disabled hunters/anglers
In addition to the Minnesota Broken Wing Connection, other opportunities exist for disabled or immobile sportsmen and women.
In the Paynesville area, Let's Go Fishing offers pontoon rides and fishing trips on Long Lake during the summer. Participants can try and catch panfish or just enjoy the ride. Contact the Paynesville Area Center at 320-243-4799 next summer to take a boat trip.
Ron Welle of Spring Hill is the statewide coordinator for Wheelin' Sportsmen,which organizes various hunting adventures for disabled, elderly, and immobile people. Wheelin' Sportsmen is associated with the National Wild Turkey Federation. Welle, who also needs volunteers, can be contacted at 320-987-3526.
The Minnesota Broken Wing Connection can be contacted by calling Verna Gertgen at 320-796-5710.
---
Return to Hunting Index