Spring Hill hunter coordinates state's Wheelin' Sportsmen program
By Michael Jacobson


Last spring, Ron Welle of Spring Hill helped bag three wild turkeys during special hunts that he organized as the state coordinator for the Wheelin' Sportsmen program.

The program - which enables disabled, elderly, and immobile people to hunt, fish, camp, or do any outdoor activity - has been going in Minnesota for nearly two years. "My job, as coordinator, is to hook up hunters with volunteers in the area," said Welle, who leads some hunts personally. "I can't do it all. If I won the lottery, I would love to do it. It's great to help these guys."

Welle organized six turkey hunts last spring at the Sand Prairie Wildlife Management Area just east of St. Cloud. Four of the six hunters were successful, including all three of the hunters that Welle guided. Welle said he spent eight hours hunting in helping those three hunters to bag three birds.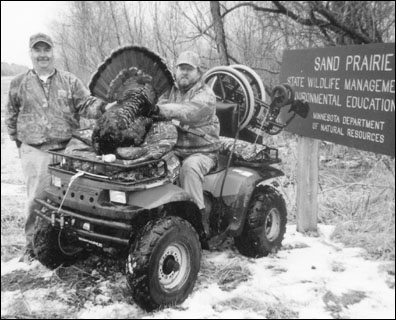 "When they get that bird, when they hear that gobble, God, it makes it worth it," said Welle. "When they got a bird, they were ecstatic."
In fact, after the three successful hunts, Welle stopped cars speeding along on Highway 10 and asked the drivers to take pictures of him, the hunter, and the wild turkey.
Helping someone who has never gone hunting or who has not hunted in several years is extremely rewarding, said Welle, who considers it an honor to help hunters through the Wheelin' Sportsmen program.
After a successful wild turkey hunt last spring at the Sand Prairie Wildlife Management Area, east of St. Cloud, Ron Welle of Spring Hill, the statewide coordinator for the Wheelin' Sportsmen program, stopped a vehicle on Highway 10 to take a picture of him (left), successful hunter Greg Runyon of Elk River, and his wild turkey.
Requirements to participate in the program are minimal, said Welle. It is open to anyone who is unable to hunt alone due to immobility, whether that stems from being elderly, being disabled, or having an acute or permanent injury. They also organize fishing trips and other outdoor activities.
Hunters do not need to have a doctor's note to participate, but they do have to join the Wheelin' Sportsmen, which costs $25, said Welle, who lives a couple miles northeast of Spring Hill with his wife, Kathy, who works at the post office in Paynesville, and their six children.
Part of Welle's job as coordinator is to arrange with the Department of Natural Resources for special hunts, in places where regular hunters would not get to go. For instance, they have had special deer hunts for disabled hunters at Camp Ripley the past two falls. They also can arrange hunts - for various game - at state parks, depending on the hunting need for population control.
Some of the Wheelin' Sportsmen also need special equipment, maybe just a piece of plywood so they can move their wheelchair or a special stand to help hold their gun. Some hunters don't need much help at all, except to get into the woods to hunt, meaning all the volunteer has to do is provide transportation into the woods. Welle and the volunteers can also help with everything during the hunt except pulling the trigger.
Though documented by pioneers to Minnesota, wild turkeys disappeared fromt the state by the 1900s. In 1973, Minnesota traded 85 grouse to Missouri for 29 wild turkeys, which were released in southeastern Minnesota in Houston County.
Minnesota got the better end of the deal, said Welle. Today, the state has around 30,000 wild turkeys, according to the DNR, while the grouse all died during their first year in Missouri, said Welle.
The goal of the state board of the National Wild Turkey Federation is to have a large enough population of wild turkeys in Minnesota so that the state can have over-the-counter licenses for the hunting season. Right now, wild turkey hunting is done on a lottery basis, with eight seasons, each lasting five days. While some of these seasons fill up fast, said Welle, later seasons normally have licenses available.
After starting to hunt wild turkeys, which he now rates as equal to bow hunting for deer, Welle got involved with the Stearns County Thundering Toms, one of the 92 county-level wild-turkey organizations, which released 23 wild turkeys by Lake Koronis last January. Welle also hunts deer, pheasant, squirrels, ducks, and wild turkeys and has two sons who have hunted wild turkeys, too.
Welle became involved with the state board six years ago, in part because wild turkey hunting was once so concentrated in southeastern Minnesota that he felt the rest of the state was neglected. He was motivated to serve on the state board to give a greater voice to central Minnesota on the state board.
For the Wheelin' Sportsmen program, Welle is always on the lookout for more hunters and more volunteers to help them.
---
Return to Hunting Index