---
Headline Stories
For the week of May 18, 2005
---
Students attend water festival......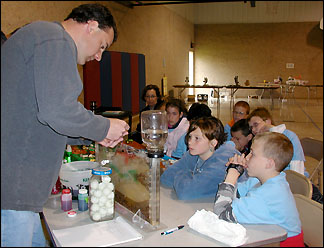 The third annual Paynesville Area Water Festival was held
last week at the Lake Koronis Assembly Grounds. Sponsored by
the city's wellhead protection committee. The event gives PAES
fifth graders an opportunity to learn about the importance
of the water table, lakes, and streams and hot to protect them.
During the event, Wayne Cymbaluk (above) of the Stearns County Soil
and Water Conservation District demonstrated to a group of students
how pollution enters groundwater.
---
Return to Archives • Return to the News Page.
---
[ Home | News | Marketplace | Community ]

---
Comments regarding this web page can be
addressed to paypress@paynesvillepress.com

Comments regarding the stories can be
addressed to editor@paynesvillepress.com

© 2005, Paynesville Press, Inc. All rights reserved.
---