Speech therapist joins hospital staff
This article submitted by Linda Stelling on 9/29/98.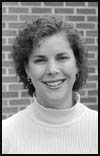 Karla Fleming, speech therapist, joined the staff of the Paynesville Area Health Care System in July.

Fleming had been working at the hospital since March 1996 through Nova Care Inc. She is a graduate of St. Cloud State University with a bachelor of arts degree and masters degree.

ďThere are so many things that tie into speech therapy,Ē Fleming said. ďWe are not teaching people how to talk, there is so much more involved. Therapy helps people with their cognitive memory, problem solving, planning sequencing, tasks, language development, reading, following directions, and auditory processing.

Language impairments can be a result of chronic ear infections, language delays and more.

Patients suffering from stroke, brain injuries, multiple sclerosis, hearing impairment, Parkinsonís disease, muscular dystrophy, and laryngeal cancer may benefit from therapy.

Fleming said slurred speech can be caused by weakened muscles in the throat or apraxia which is when a person has difficulty getting their words out. Therapy can help correct these problems, she added.

She is available at the hospital five days a week by appointment. If a person needs a referral, Fleming said they would see that the patient received one.

Fleming said therapy at the hospital could supplement speech therapy students receive at school. ďSchools have more restrictive funding guidelines and many students who need therapy fall through the cracks,Ē she added.

ďStudents who have problems pronouncing letters lose self-esteem,Ē she stressed. ďTherapy can help them catch up to their classmates.Ē

Fleming said a child is never too young to watch for speech development. During their first year, parents need to watch for variations in cooing, babbling with intonation changes and their response to name and human voice.

During their second year, they should be able to speak single words, speak their own jargon and the child becomes aware of social value of speech.

By the time a child is two years old a person should be able to understand one-half of their speech and they should be able to say two to three words in combination. By the age of three, a child should use sentences that have four or more words, three-fourths of their speech is intelligible and they should understand simple questions.

ďChildren develop speech skills at different stages. If your childís speech interferes with effective communication, parents might want to contact their local doctor or speech therapist,Ē Fleming suggested.

Fleming said she is also available for in-services to educate community groups about speech therapy and the various areas that it covers.
---