Friends buy Bullpen in Lake Henry
This article submitted by Linda Stelling on 9/1/98.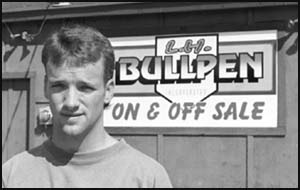 Herbie Weidner and Lynn Hemmesch, Lake Henry, had talked about going into business for themselves, so when the opportunity arose to purchase Whirlyís in Lake Henry, they jumped at the chance.

ďWe wanted to be in business for ourselves for a while,Ē Weidner said. ďWe had talked about it with friends and when the opportunity to buy Whirlyís came about, Lynn called and asked if I was interested.Ē The rest is history.

The two men took over ownership of the Lake Henry bar from Katie Madden on July 1. To get back to the sports bar theme, they changed the name of the place to L.H. Bullpen, Inc.

The L.H. Bullpen is open seven days a week from 11 a.m. to 1 a.m. with happy hour on Wednesdays from 7 to 9 p.m.

Both men are natives of the Lake Henry area and have been active in sports. Owning a bar is a learning experience for both men. Hemmesch is a farmer and Weidner has never tended bar before.

This fall they hope to sponsor dart and pool league teams. They also hope to host a winter spearing contest, big buck contest and fantasy football this fall.

Next year they want to sponsor a softball team.

Weidner said his goal is to make the place a success.

The co-owners plan on holding dances once a month with a DJ or karaoke. On Sunday, Sept. 6, they are planning a Labor Day Bash with Maggie James, formerly known as Thunder Canyon.
---