Students gather at PHS flag pole for rally
This article submitted by Linda Stelling on 9/22/98.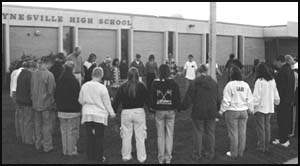 Early Wednesday morning, before school, 45 to 50 Paynesville Area High School students dropped their books and gathered around the flag pole for a prayer rally.

Students across the country repre-senting all the area churches joined together to pray, read Bible scriptures and sing songs on the eighth annual ďSee You at the PoleóNational Day of Student Prayer.Ē

The theme for See You at the Pole 1998 was ďFor Such a Time as This.Ē The phrase refers to the story of the Jewish Queen Esther, who interceded for her people before the Persian king to save the Jews from destruction in 473 BC. Many students believe the threats to that ancient time and the spiritual dangers facing our nation today are worth comparison, prompting them to pray to God, as the Jews did in the story of Esther.

The tragic shootings at high schools and junior high campuses in the past school year, resulting in the untimely deaths of more than a dozen children and teachers, highlight the danger students face when they walk on the school grounds each day. Many young people have responded with renewed spiritual fervor: the daily prayer meetings in Paducah, Ky., grew from around 30 to more than 130 after a shooting incident on Dec. 1, 1997.

See You at the Pole is a student-initiated and student-led movement that began in Texas in 1990 with a single church youth group. It grew to more than three million by 1997. Youth in all 50 states and 17 countries on five continents participated last year.

The visibility of See You at the Pole, with so many teenagers participating in the event, has led to a greater awareness among adults of the problems students face at their schools every day. The Paynesville students were at the pole for almost an hour, with more students joining them as the school buses arrived.

The gathering of young people for prayer before school at their schoolsí flagpoles is entirely legal, according to the U.S. Education Secretary Richard Riley. In a letter sent to school officials in August 1995, See You at the Pole was listed among those activities that are appropriate forms of religious expression by students on campus.

---