Minnegasco extending gas lines into Paynesville Township
This article submitted by Linda Stelling on 9/22/98.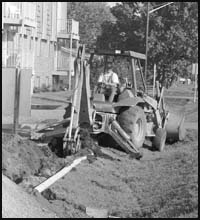 Minnegasco is installing new gas main and service lines in Paynesville Township this summer. Work started the first week in September and is expected to be completed by mid-October.

The new street main installations started at Hoffman and Washburne Avenue and go south to Highway 55 and then southeast until turning on Highway 124 to Lake Koronis Road, and west on County Road 181.

New homes along those routes can connect to natural gas, and existing homes can convert from their current form of energy and be connected. Individual residential service lines are being connected as the crews pass homes.

More than 100 additional homes and businesses will be served by the new gas main extensions.

---