Melhus will be intern at Nordland for the next year
This article submitted by Linda Stelling on 9/22/98.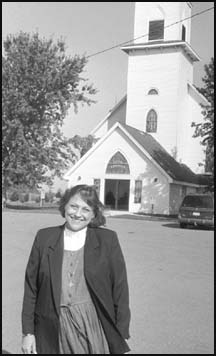 Melinda Melhus began her duties as the new intern pastor at Nordland Lutheran Church on Sept. 1.

A native of Norway, Kan., Melhus grew up in a small rural community very similar to Hawick, where she will live during her internship.

After working 20 years in advertising and public relations, she decided to enter the ministry. She has attended Luther Seminary for two years and this past summer did a clinical pastoral education at St. Maryís Medical Center in Duluth.

Upon completing her internship, Melhus will return to Luther Seminary to complete her master of divinity with the Evangelical Lutheran Church of America.

ďI enjoy working in the rural areas,Ē she said. ďI have lived and worked in large cities, but my heart is in the rural area.Ē

ďAfter growing up in a rural church community very similar to Nordland, this will be a wonderful experience for me at this point in my life,Ē Melhus said. ďI can relate to the church of my childhood, but now Iíll see the close knit church of my adulthood differently.Ē

ďRural people seem to have a close connection with God in their faith and creation in every aspect of their daily life,Ē she added.

Melhus said her duties will cover every aspect of ministry at Nordland. She will be assisting in teaching the confirmation class and seventh grade Sunday school class, working with the youth league, and doing nursing home visitations. In addition, she will be leading worship services and doing Bible studies at the Good Samaritan Care Center, singing in the church choir, taking part in Nordland Lutheran Christian Women and taking part in the ministerial associations at Paynesville and New London.

ďMy goals are to become fully integrated into the church and its surrounding community,Ē Melhus said. ďI feel Nordland is a wonderful place to do this.Ē

Melhus lists as her hobbies counted cross-stitch, hiking, and spending time with her friends and family.

Upon completion of her education, Melhus said she will serve where she is called.
---