Mergen finds menagerie of animals relaxing
This article submitted by Linda Stelling on 8/25/98.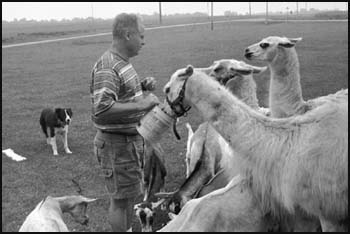 During a peaceful drive through the countryside, a person doesn't expect to see emus, llamas, pot bellied pigs and peacocks in rural Stearns County.

"Quite often we get people stopping and asking us about our menagerie," Jeff Mergen, rural Richmond, said.

Mergen and his wife, Nellie, have lived west of Richmond about 10 years. "We had some of the animals when we lived by Foley," he said. "We started slowly and have gradually added to our collection."

In looking around their rural home, a person sees wild turkeys, geese, pot bellied pigs, goats, llamas, chickens, sheep, peacocks, dogs, cats, and emus.

"We were both born and raised on a farm. We wanted animals that didn't make a big mess," he added. Nellie also runs a daycare and they didn't want animals that were dangerous. At first the daycare kids were fascinated with the animals, but after a while they got accustomed to having them around.

A high school math teacher and wrestling coach at Rocori, Mergen finds the animals relaxing. "I have it set up so it doesn't take long to feed the animals. If I don't get out there for a day or two, the animals can take of themselves," Mergen said.

"I keep my eyes open about other animals for sale. If they are for sale in Minnesota, I feel it means they have adapted to the climate. Llamas are native to the mountains of South America and are used to colder climates. Emus are tough birds. They lay their eggs in the winter," he added.

Mergen has had requests for tours. "I'm not set up for tours," he said. "When people stop and ask questions about the animals, I let their kids feed them by hand."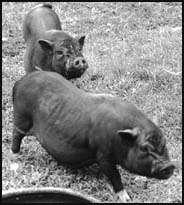 Mergen said he needs to keep a watch on the pot bellied pigs so they don't get too fat. "They have a slow metabolism so they don't burn off their fat. We've found the pigs to be very smart," Mergen said.
"Llamas are sure footed, more so than the goats," Mergen said. He has five llamas. In the winter, he brushes the llamas and gives their wool to a friend who is practicing spinning. "They are very docile animals. The goats even push them around.
Before winter arrives, the majority of the sheep are sold and all the animals are housed indoors in a large shed.
During the summer months, one pasture also contains a backstop for the kids to play ball and another pasture has a volleyball court. "When we want to play volleyball, we take the lawn rake and clear the court area so we don't step on anything," Mergen said.
Nellie said she doesn't pay much attention to the animals, they are her husband's hobby. "They are just part of the place," she added.
---