Foreign youths spent summer working at LKAG
This article submitted by Linda Stelling on 8/25/98.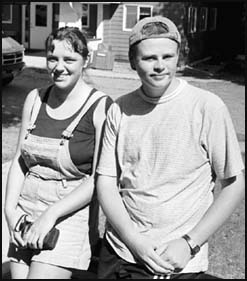 Tim Dill Hay of Augher, Ireland, and Barbara Blozejezyk, Dzialdowo, northern Poland, spent their summer working at the Lake Koronis Assembly Grounds (LKAG).

They both applied for summer work through Camp America and were sent information about the program and various camps.

Camp America is an international organization which recruits people who want to work at camps in the United States, Larry Kalas, LKAG manager, said. "It is a win-win situation for both of us. I find summer help and they learn more about the culture of the area," Kalas said.

"I try to fill positions with local people but I have more positions than applicants most of the time," Kalas added. "I call Camp America to see who they have and if they fit into my programs. One of my main criteria for the position is that they speak fluent English.

Tim, 19, worked as a camp counselor all summer between LKAG and Decision Hills at Spicer. Barbara, 21, worked as a cook at LKAG. This is her first trip to the United States. Tim visited with his family in Florida once. Tim said he had visited other countries with mosquitoes, but for some reason they really like him here. Ireland has no mosquitoes. "At other places, bug sprays would deter the mosquitoes, not here, they bit through the bug spray," he added.

Tim arrived in Minnesota on June 5 and will be returning home on Monday, Aug. 24. Barbara arrived on June 17 and leaves LKAG on Aug 31 to tour the east coast. She leaves the states on Sept. 17.

Barbara said this has been a new experience for her. "I've never had to cook in large quantities before," she said. Barbara is a college student at the University of Warsaw taking English teacher training. She still has two years to earn her BA and four years to receive her MA. "I have found working here helpful in learning American English. At school we learn the British pronouncements. It is good to know the American version as a person encounters many Americans traveling," Barbara added.

Barbara was surprised to find 10 different churches of different denominations in a community the size of Paynesville. "Poland is pretty much Catholic," she said. "In my hometown, we have two Catholic churches and one Evangelical church. I knew America was a big country and had a mixture, but not so many in a small town."

Tim said when he arrived, he saw balloons at almost every mailbox. "We don't have graduation when we finish high school," he said. "We don't learn our grades until September. We take tests through an examinning board which is more impartial."

Tim said his home town is very small. It is probably two blocks long and has five bars and four shops. "When my friends and I get together, we usually play soccer," he said. "In Ireland, we don't consider anything a city unless it is big enough to have a university and a cathedral, otherwise it isn't a city. Everything else is a town or village. A village is minuscule and Paynesville would be considered a town," Tim said.

Tim lives only 20 minutes away from the town where the bombs went off in Ireland. He was relieved to learn his sister was okay. She was supposed to have been on a shopping trip and would have been in the area where the bombs exploded.

"I have enjoyed meeting the many campers who passed through Camp Koronis this summer. There have been about 150 completely different types of kids," he said. "Some have been obnoxious and others have been great," he added. Last week was the advance horse camp at Camp Koronis. "When I ride horses at home it is the English style. I had never tried riding Western saddle before. I even tried bareback, but fell off," Tim said.

Among first encounters for the two were tacos, Dairy Queens, root beer floats and s'mores. "We have lots of Burger Kings and McDonalds, but no Dairy Queens," they said.

Upon their arrival back home, Tim said he plans on catching up with his sleep and friends and getting organized as to which university he should attend.

Barbara said she will be returning to college on Oct. 1.

Both Tim and Barbara enjoyed working at LKAG and would be interested in trying it again.

---