Boy Scouts learn new skills at camp
This article submitted by Linda Stelling on 8/25/98.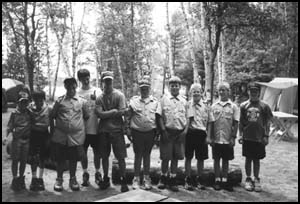 Several Paynesville area Boy Scouts recently spent a week at Camp Cuyuna near Cross Lake, Minn. Troop 34's campsite overlooked Goodrich Lake.


The 10 boys set up camp, including their outdoor kitchen and dining area, and took turns with a variety of jobs. Each boy chose different areas of interest to work on merit badges throughout the week. Areas included: emergency preparedness, climbing, cooking, first aid, lifesaving, wilderness survival, communications, mammal studies, environmental science, boating, and rank advancement activities.


Troop events included sailboating, rifle shooting, archery, horseback riding on a trail ride, black powder rifle shooting, an old-fashioned rendezvous, 'Capture the Flag,' bicycling, scout olympics, several campfires, and a water carnival.


Troop 34 boys participating were: Adam Ingalsbe, Bobby O'Fallon, Ben and Joe Lingl, Jon and Scott Millner, Troy Gerding, Dustin Rudy, Jon Scheierl, and Derek Burris. Adult leaders accompaning the boys were Gretchen O'Fallon, Barb Ingalsbe and Cindy and Dave Gerding.


Summer camp opportunities continue to be supported by the Paynesville American Legion and various community organizations.
---