Warm weather has fisherman in boats, not ice houses
This article submitted by Linda Stelling on 12/8/98.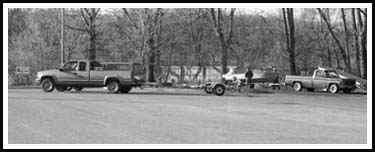 With temperatures setting new records, area residents were shedding their jackets last week. Normal daytime temperatures for the first week in December are usually in the 20 to 30 degree range.
Last week temperatures soared into the upper 50s and lower 60s in most parts of Minnesota, shattering records set almost 100 years ago.
Ice fisherman are patiently waiting for the lake to freeze over. However, that doesn't stop them from launching their boats and heading out into the lakes for some open water fishing.
Above, boats and trailers at the Dahlman boat landing on Highway 55, southeast of Paynesville.
---