Paynesville native earns outstanding tutor award
This article submitted by Linda Stelling on 12/8/98.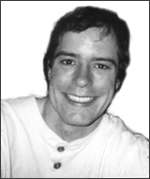 Mark Rodel, Paynesville, was recently named the winner of a national award, the Tom Pasternack Outstanding Tutor Award for 1998 from the College of Reading and Learning Association.

The son of Pete and Jean Rodel, Paynesville, Rodel is a senior majoring in philosophy at St. Cloud State University.

Rodel has attained Master Tutor status and was honored for initiating innovative programs that help students, such as developing two on-line tutorial web sites to further assist individual students.

Gretchen Starks-Martin, codirector of the Area Learning Center, suggested Rodel for the award. ďHe works very hard and puts in extra hours, though he doesnít tell me about all the overtime,Ē she said.

Starks-Martin said Rodel set up a folder for each student he helps so he can keep their questions and follow through with their needs.

Rodel said there are three levels of tutorial certification. It took him two and a half years to accomplish all three levels. Last winter he achieved the status of Master Tutor. With this certification, he is qualified to teach anywhere in the world.

Besides his on-line web sites, he leads two study groups ranging from six to 40 students at the Academic Learning Center. ďIt only takes good grades to get your foot in the door to become a tutor,Ē Rodel said. He has tutored a wide variety of classes from philosophy, to sociology, and now does strictly biology.

ďI wanted to be able to help people learn,Ē Rodel said. ďI was on a work study program at St. Cloud and that helped me get started tutoring.Ē
Rodel said it also helps that he is a student. A person can talk to the other students on the same level and the group setting makes it easier to learn from one another.

Rodel said the two web sites contain study questions, sample exams and explain different biology concepts. ďIíve really enjoyed setting up the web sites,Ē he added. His web site is alc@stcloudstate.edu/tutoring/biology

Upon graduation in the spring, Rodel is considering graduate school where he will study English as a Second Lang-uage.

Applications for the award were received from across the nation and a team of three judges selected the winner.

Applicants had to submit an original essay and student transcript, supervisor letter, and faculty recommendation.

Rodel was awarded a $250 scholarship and plaque at an awards ceremony held in Salt Lake City, Utah.

The award is named for Tom Pasternack, a College Reading and Learning Association journal editor who left a legacy to honor one outstanding tutor each year.
---