Hospice tree lighting held at Koronis Manor
This article submitted by Linda Stelling on 12/8/98.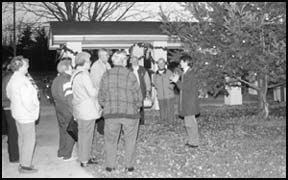 During the holiday season, the memories of loved ones become more vivid.

The Rice Hospice program held a ďLight a Light for a Loved OneĒ on Tuesday, Dec. 1, at 5 p.m., to help remember loved ones that have died during the year.

Hospice groups in Paynesville, Willmar, Appleton, Benson, Dawson, Granite Falls, Montevideo, Ortonville/ Graceville all lit an evergreen tree with Christmas lights to ďShare a Memory.Ē

Taking part in the Paynesville tree lighting were: Doris Dodds, local Hospice coordinator; Judy Dunlop social worker; Cindy Lundberg, RN; Dr. Ray Lindeman, and Father Richard Leisen.

The Paynesville Advisory Committee planned the tree lighting ceremony.
---