Gas prices drop to 20-year low at local gas stations
This article submitted by Linda Stelling on 12/8/98.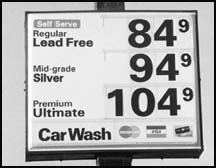 Gasoline is at its lowest cost in 20 years in Paynesville, as local stations dropped their prices to 84.9 cents a gallon last week for unleaded regular.

Local station owners said their prices depend on the market. They charge according to what the distributor charges. Gas prices in the Paynesville area have been close to $1 a gallon for several months.

Dave Lang, manager at H&L Express, said he doesnít expect the prices to rise anytime soon. Their gas prices were 89 cents at Thanksgiving and on Dec. 3, it dropped to 84 cents. ďGas prices were at $1.03 for most of the summer,Ē Lang added.

ďIf we charged according to inflation rates, gas prices would be over $3 a gallon,Ē Lang said.

Jim Guenther, Jimís Standard, said he canít remember when gas prices were this low. According to his records, in June of 1997, they were selling regular gas for $1.25. On Dec. 1 his price was 89 cents. Of that 89 cents, 33 cents is federal and state taxes.

Shawn Evans, Hilltop Stop, commented that the stations selling gas in the metro area for 77 cents and lower arenít breaking even. ďTwenty-five cents on every gallon is needed to cover the cost of the employees working at the station,Ē he said. ďIf a station owns their own transport truck, maybe they can sell gas for lower prices.Ē

Evans said he thinks the prices may go up before Christmas, but the prices still wonít be over a $1 a gallon.

He credits the lower prices to the warm winter weather. ďThere is a surplus of fuel as people arenít needing to heat their homes much with the above normal temperatures,Ē Evans added.

However, due to the warm weather, he had over 100 fishermen and their boats come through on the Nov. 28 and 29 weekend. ďMany places arenít stocking bait because lakes are normally frozen over. Lake Koronis is wide open and fishermen are taking advantage of the extended fishing season,Ē he added.

Ann Schramel, Cenex manager, agreed with the other station managers and said she did not expect to see the gas prices rising in the near future with the surplus of crude oil on the market.

ďI have no idea how long the prices will stay this low. The customers are really enjoying the prices though,Ē Schramel said. ďI canít remember when gas prices were in the low 80s.Ē

Larry Imdieke, manager at Fleet Supply, recalls the prices were this low when he was in high school, more than 20 years ago.

ďI donít foresee gas prices going up unless something (middle east war) happens,Ē Imdieke said.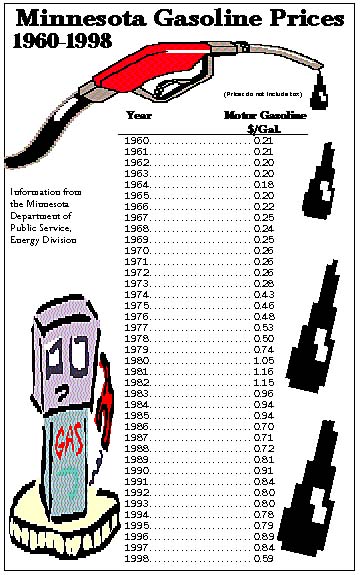 ďIím amazed the prices have remained below a $1 for as long as they have,Ē he added. ďNobody really knows the answer as to when the prices will increase. But I have a feeling that when they do jump, it will be 10 cents at a time, not just a penny or two.Ē
Dick Johnson, Vern Johnson Motors, thinks the gas prices are great. ďI canít recall when the prices were this low, it has been a long time. The prices were substantially higher for a long time. The lower prices will help people during the holiday season as they travel to visit with friends and family,Ē Johnson said.
ďThe low fuel prices along with low interest rates are helping fuel the whole economy,Ē Johnson added.
John OíNeil, energy specialist for the Minnesota Department of Public Services, energy division, says current gasoline prices are the lowest Minnesota has seen in 20 years.
ďIn dollars and cents, 1978 is the last time prices were this low,Ē OíNeil said. ďAdjusted for inflation, gas prices are as low as theyíve been since the late 1920s or early 1930s.Ē
The statewide average for unleaded fuel in Minnesota last week was 97.3 cents a gallon. At that amount, 59 cents is for the fuel, with an additional 38.3 cents added for state and federal taxes.
The American Automobile Associa-tion of Minnesota attributes the lower pump prices to an increased supply, fueled by a sluggish worldwide economy and lower demand for gasoline.
---