Children have breakfast with Santa
This article submitted by Linda Stelling on 12/8/98.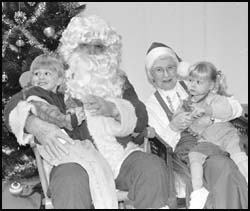 Kids of all ages took part in the Breakfast with Santa Satuday at the Paynesville Area Senior Center.

Members of the Paynesville Area Chamber of Commerce served French toast and sausages throughout the morning.

Santa and Mrs. Claus greeted youngsters and asked them what they would like for Christmas.

In Grandmaís Attic, youngsters could shop for inexpensive gifts for their parents. Volunteers were on hand to wrap the gifts which were purchased. Grandmaís Attic was sponsored by the Senior Dining Program.

The Paynesville Area Jaycees held a bake sale of Christmas treats.

Angie Lahr, Paynesvilleís first princess, read stories to youngsters while their siblings played games with a Girl Scout troop. Melissa Schneider, second princess, handed out treat bags filled with goodies from local merchants.
---