Children "bake and take" holiday treats
This article submitted by Linda Stelling on 12/8/98.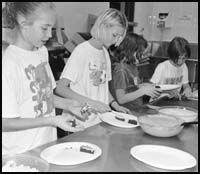 More than 30 youngsters participated in the third ďBake and ď at the Paynesville Area High School Friday afternoon.

The youngsters, ranging in age from first through sixth grade, made pretzel rods, Rice Krispie bars decorated to look like presents, and cut out brownies with cookie cutters and decorated them.

Helping with the project were: Laurie Nepsund, Sarah Winter, Becky Peterson, Laurie Rausch, and Pat Thielen.
---