Brown makes animal rockers each Christmas
This article submitted by Linda Stelling on 12/8/98.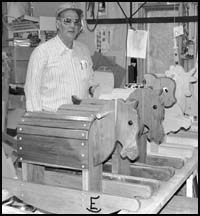 Each year as the holiday season approaches, Earl Brown, Paynesville, spends more and more time in his workshop working on his hobbies.

A carpenter by trade, Brown spends his days building houses and churches and when he gets home in the evening, he switches over to the rockers. ďI find them a great way to relax and unwind,Ē Brown said. He can often be found in his workshop until two in the morning working on the rockers.

Brown said Ed Budke, Grove City, gave him his first job working with wood when he was 14 years old. In 1960, he started to work on his own.

Brown has been working with wood since he was nine years old. He started with a small band saw and today he cuts down trees, saws and dries his own wood to makes rocking horses, button boxes, baby cradles, cedar chests, and bedroom sets.

When December rolls around, he starts making rockers for children. Brown said the rockers can take on the appearance of any animal.

ďI enjoy seeing the expression on the kidís faces when they get their rocking horse,Ē he said.

Brown has made 12 to 18 rockers a year for more than 10 years. Brown said he has a grandson in North Carolina who wanted a red bull as his rocker. Brown used red cedar to get the right color effect.

He uses scraps left over from other projects to make his rockers. It is not uncommon to find six to 12 pieces of wood cut out in the shape of a head or tail awaiting assembly. Brown has boxes of various head and tail shapes cutout as well as side boards for body pieces.

Brown said walnut is his favorite wood to work with as it is such a beautiful colored wood. He uses basswood when he wants to carve fish decoys because it is a softer wood.

Brown said most people see firewood when they see a pile of trees cut down. He sees dressers or cabinets in the logs.

ďI donít cut down a tree unless it is dead or needed for a special project,Ē Brown added. ďIíll travel anywhere for a desirable piece of wood.Ē He stores logs and sawed lumber in various piles and buildings where he lives.

He said it takes cedar six months to dry. It takes elm a year to dry to 12 percent moisture. ďIt canít be used to make furniture until it is dried to six percent moisture content,Ē Brown added.

Brown has his own sawmill in his back yard where he cuts the logs into boards. He also has a kiln in which he can dry the wood to its desired moisture content before starting a project. He uses scrap lumber to heat the kiln.

Brown added that his first love is building churches. Ten years ago, he was in South America building a church. Brown and his son, Tim, are currently building the Crossroads United Methodist Church at New London.
---