Sonstegard brothers preserve ag legacy
This article submitted by Nosza Piotrowski on 12/30/97.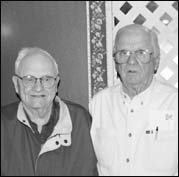 The Sonstegard brothers, Goodwin (ďGoodyĒ), Oleen (ďOle), Donald (ďOl TigerĒ), and Bernard (ďBuzzĒ) were featured in a recent edition of their fraternity paper, Alpha Gamma Rho.

All have had successful careers in agriculture and according to the article ďmade a significant contribution to agriculture and to their community, state, and nation,Ē possibly creditable to their education at the University of Minnesotaís College of Agriculture and participation in their fraternity. The Sonstegardís grew up on a farm near Georgeville. Two of the brothers, Ole and Don, have remained near their home base in Paynesville.

During their college years they were involved in 4-H and livestock and poultry judging. For years, the Sonstegard brothers would award a gold watch to the winner at the U of Mís College of Agriculture student livestock judging contest.

The Sonstegard agriculture tradition was transplanted from Norway to America in the year 1867. Maren Carlson and Amund Sonstegard traveled from New York to Minnesota by train and from St. Cloud to the Paynesville area with the help of a team of oxen. They built their log cabin that summer and also had their first child. Communities were close knit then, according to Ole, a handshake was just as good as a written contract and neighbors were more likely to to ask for and receive help from those nearby.

The Sonstegards can trace their history back to 65 B.C., some of their more well known forefathers include King Harald Haarfagre, President George Washington, and the current King of Norway.

After graduation, Ole worked for the USDA and Don joined the Air Base Security Division of the Army Air Corps. They both have had varied careers and partnerships, with an emphasis on management and always within their beloved field of agriculture.

Ole retired in 1993 from the turkey and dairy business. Selling all his cattle as of last year, he is now content to raise cats as a nonprofit hobby. He recommends the stock market as an equally profitable business as farming.

Don is still involved in raising animals, he owns Sauk River Hog and River Ranch, raising pigs and Red Angus breeding stock, both have been in operation since 1975. Before he struck out on his own, he was partners with Marshall Foods and had his hand in everything from feed manufacturing to the farms and processing plants located across Minnesota, North and South Dakota, and Iowa. In the local egg plant, the Farmers Market, he employed over 100 workers. The eggs came in clean, they had to be ďcandled,Ē put under lights to see if there was any blood spots or chicks forming. The eggs were sorted by a machine that was imported from Holland, it would do a case at a time. The eggs were packaged in cartons and ready for transport.

Ole became an astute salesman, at one point he was rated number one in the whole U.S.A. He eventually hooked up with Marshall Foods in a managerial position, in charge of their feed mill, which mixed feed for cattle and hogs.

Speaking on how weather impacts his business, Don found last winter to be ďone of the toughest winters we ever had,Ē especially around his Montevideo ranch where the enormous snow drifts acted as a land bridge for the cattle across the fences. Luckily, the cattle stayed near for the food.

He also had luck with his ranch business when, two years ago, he was ordered to move his buildings further away from the nearby waterway. He had no way of knowing then that if he hadnít they would have been flooded. His cattle in nearby Richmond enjoy lush pastures which are rotated and irrigated. He sells them in the fall, pregnant heifers get mandatory ultrasounds to see if they are carrying a bull or a heifer.

The Sonstegard brothers say they would advise a prospective farmer/agriculture worker to get an education in agriculture beyond high school because of the changing technologies and incessant improvements. The tricky part is investing, which requires, according to Ole, $5,000 per acre for it to be profitable. The major cost now is the machinery, approximately $150,000 for a tractor and $140,000 (heads not included) for combines. In the past, says Ole, it took $1 a square foot to put up a turkey barn, now it takes $7 a square foot.

Both are married, maintaining careers as well as a home life. Ole has three girls and one boy, and Don has four girls and one boy.

---