Take precautions when driving this winter
This article submitted by Linda Stelling on 12/1/98.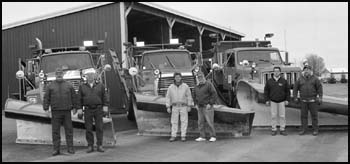 The weather forecasters tell us not to expect the same mild winter El Nino gave state residents last year. No one knows for sure what this yearís LaNina might bring.

Some parts of Minnesota have had more than two feet of snow while in other areas of the state, golfers are still out on the golf courses.

Over the Thanksgiving holiday, parts of Minnesota recorded record breaking temperatures. Temperatures were 20 degrees above normal for the long holiday weekend.

The Minnesota Department of Trans-portation (MnDOT) is sure of one thingóit will snow and MnDOT crews will be out keeping roads clear of snow and ice.

In some parts of the state, they have already closed roads to traffic because of the heavy wet snowfall earlier this month.

Minnesotans can count on another constant. MnDOTís 1,500 snowplow operators will be on call 24 hours a day and are ready to do battle with winter snow and ice no matter what type of weather comes.

At the Paynesville MnDOT Sub-station, the crews (pictured left to right: Bob Haines, Ken Ramthun, Dick Putzke, Virg Kulzer, Jon Teicher, Gary Winning) have their trucks ready to clear the 174 lane miles of highway they cover. The Paynesville crew is responsible for maintaining Highway 55 from Kimball to Brooten, Highway 23 from Cold Spring to the county line road west of Paynesville, Highway 22 from Richmond to Eden Valley, and Highway 4 from Paynesville to Greenwald.

The Paynesville sub-station has six men working here with anywhere from 11 to 32 years of experience. Bob Haines, the highway maintenance supervisor, also oversees Albany and Sauk Centre.

Haines said last year the Paynesville crews used 663 tons of road salt and 580 tons of sand on state highways.

Haines said in November of 1997, the Paynesville area had received 12 inches of snow compared to the four inches the area received this year. December 1997 records showed the area had only six inches of snow while January produced 21.5 inches.

Total snowfall for the 1997-98 winter season was 60 inches, according to Haines records.

Plow operators are professionals. They know what they are doing. But they need motoristsí help. Mark Wikelius, MnDOT state maintenance engineer, says that motorists need to do their part on the roadway this winter by staying back from snowplows and giving plow operators room to do their job.

MnDOT reminds motorists:
ē Slow down. Snowplows usually travel between 30 to 50 miles per hour slower than other vehicles.

ē Never drive into a snow cloud.

ē Assume snowplow operators do not see you.

ē Think twice before passing. Do not pass a snowplow unless you can determine which lane the truck is working in.

ē A 3,000 pound car is no match for a 50,000 pound snowplow. If you collide with a snowplow, you will probably lose.
MnDOT continues to study new ways to make winter driving more safe. For example, gate arms have been installed at several locations on Interstate 90 between South Dakota and Albert Lea; and on Interstate 94 between Moorhead and Alexandria, and on U.S. Highway 20 near Moorhead to prevent motorists from getting stranded on the roadways during severe storms.

During snow and ice operations, MnDOT wets the sand and salt mixture before it hits the road so that it will stick to the surface better and work faster. Before a storm, a technique called anti-icing is used where liquid chemicals are applied to the roadway to prevent ice from forming. For anti-icing to be successful, MnDOT uses its statewide road weather information system to provide accurate weather forecasts.

MnDOT suggests motorists should not be complacent because of last yearís mild winter, be prepared for whatever LaNina might bring, donít take chances around snowplows and Stay Back, Stay Alive.

For 24-hour statewide recorded road condition information, call: 1-800-542-0220 or 651-405-6030; or check MnDOTís Internet web site: www.dot.state.mn.us.


Snow removal facts...
ēA snowplow truck with a plow and a sander costs between $75,000 and $98,000.

ēA fully loaded snowplow truck with sand and salt weighs between 30,000 and 56,000 pounds.

ēMnDOT has 1,500 drivers operating about 800 snowplows statewide.

ēMnDOTís snowplows covered 5.7 million lane miles during the 1997-98 winter season.

ēThe same table salt we use on food is used to melt ice and snow.

ēDuring the winter of 1997-98, MnDOT spend $32,345,689 on snow and ice control.

ēAbout 4,824,583 tons of salt and sand were used on state roadways during the 1997-98 winter season.

ēSnowplow trucks are generally slow moving. Speeds can range from five to 25 miles per hour.
---