Instead of sharing Christmas Day with his family and friends this year, Drew Deadrick spent his holiday in a battle zone in Iraq. But he was still able to give his family the best possible gift: a "Merry Christmas" message delivered via the Internet.

For Drew's parents, Sandy and Keith Deadrick, his brothers Bill and Jim, and the other friends and family gathered at their home to celebrate Christmas, the message was especially meaningful. They hadn't heard from Drew since he was home on leave more than a month ago.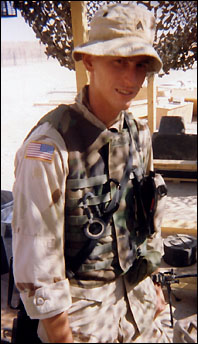 Drew, a 1999 PAHS graduate, is a sergeant with the 682nd Engineer-ing Battalion, a Minnesota National Guard unit based in Litchfield. The combat engineering battalion specializes in construction and demolition. In Iraq, the unit uses specially-equipped tanks to locate explosives and destroy explosive devices. While Drew cannot tell his family much about his job or mission, he did say that the slang term used to describe his crew is "tank retriever."
Sergeant Drew Deadrick - who re-enlisted in the Minnesota National Guard so he could accompany his Litchfield unit on their deployment - travels from base to base in Iraq.
Since he left for Iraq in February, Drew's family has endured other periods of silence - when his mission took him away from phones and computers - but never for so long. "It scares the hell out of me," said Sandy, of not hearing from her son. Sandy is especially worried since he has a dangerous job and and is currently in a dangerous area near Fallujah.
Because of the nature of its mission, Drew's unit moves from place to place and doesn't have a permanent base in Iraq, said Sandy. This makes communication with home difficult and sporadic.
Sandy figures her son has to be living in bad conditions. The heat can be oppressive - Drew reported temperatures of 156 degrees once - and the soldiers must wear heavy, hot protective gear and carry guns all the time, even to the shower, according to Sandy. Blowing sand is a constant companion to soldiers in Iraq. "But he never complains," she said. "Not once."
Drew once told Sandy that explosives are common in the areas he patrols, and the insurgents can be creative when deciding where to place explosives for maximum effect. For instance, his unit once found explosives in a concrete highway divider. The original divider, which was large and very heavy, had been removed and replaced with the explosive one. Fortunately, the unit detonated the divider without incident, according to Sandy.
Though they fear for Drew's safety, Sandy and Keith are proud of him for doing his job and believing in his mission. "It's admirable," said Keith.
Drew didn't have to go to Iraq, said Sandy. He actually was not scheduled to go to Iraq - because he had nearly completed his original enlistment he was not required to deploy overseas - but he re-enlisted for another six years in the National Guard to join his unit in Iraq.
Drew, who joined the National Guard more than six years ago, felt that he was needed in Iraq, and he believed the job the military was doing there was important, said Sandy, who described her son - who was named the Soldier of the Year for his unit in 2003 - as "gung ho." The military is everything to him, she added.
Though part of the reason he wanted to go to Iraq was the camaraderie that he had developed with his unit, Drew was willing to join the active-duty Army, so he could join the effort in Iraq, said Sandy. In the end, his re-enlistment did ensure a place with his battalion in Iraq.
Drew was gone for nine months when he came home on leave in November. His parents had short notice of his return and didn't even know what day he was coming home until they got a call that he was at the airport in Minneapolis.
Drew's home visit was short, just over two weeks, but the family was able to celebrate an early Thanks-giving before he returned to Iraq, said Sandy. For a short while, Sandy and Keith didn't need to worry about their sons. Drew was home, and Jim, who is a full-time member of the National Guard, had just received orders for Fort Ripley instead of the Middle East.
And even though Drew had to go back to Iraq before the holidays, Christmas would have been less joyous for Sandy and Keith if they hadn't been able to see their son recently, said Sandy. This was Drew's first Christmas away from home, she added.
While he was home, Drew was restless to get back to his unit, Sandy said. His unit has become like a second family, and he felt like he had abandoned them while he was home, she explained. If something had happened to the other soldiers during that time, he would never be able to live with himself, she added.
Now that Drew's back in Iraq, Sandy and Keith wait for news. The wait is easier knowing that Drew has a lot of support from the community. His employer recently called Sandy for Drew's financial information because the company wants to pay him the difference between his civilian wages and his military pay. And Sandy's own co-workers, even those that Drew had never met, have been very supportive and met Drew with hugs when he visited, she said.
When Drew sent his Christmas message, everyone at the family gathering sent a joint reply to Drew, though he wasn't able to stay online long enough to chat.
Drew doesn't have a return date yet, but his family hopes that his overseas deployment will only last a year. They hope they won't need to share many more holiday greetings with him via the Internet.
---
Contact the author at editor@paynesvillepress.com • Return to News Menu
Home | Marketplace | Community
---