The Paynesville City Council approved a 2005 budget of $1,446,053 for the city and a tax levy of $465,455 last week. The budget is $85,448 higher than 2004; the levy is $22,164 higher than 2004.

Though the city's 2005 tax levy is six percent higher than its 2004 levy, most city property owners will not see a marked increase in their actual city taxes, said city administrator Steve Helget. Because of the city's growth in 2004, the higher levy will be shared by more taxpayers, he said, though taxes may be slightly higher.

In addition to the increased levy, to pay for the budget increases in 2005, the city will use over $44,000 in increased state aid and nearly $19,000 in additional fees and other revenue.

After two years of reductions in state aid, the city expects a $44,000 increase in state aid for 2005. The 2005 budget reflects an anticipated $518,892 in Local Government Aid.

For the past two years, state aid amounts were reduced, from $577,093 in 2002 to $474,563 in 2003 and 2004. In 2003, cuts to state aid forced the city to amend its budget. In 2004, state aid cuts were handled by eliminating or reducing some transfers from the general fund to various capital improvement funds.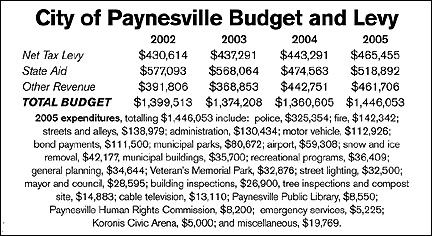 This year's increase in state aid is a good sign, according to Helget, since state aid makes up a large portion of the city's income. The expected state aid for 2005 is still more than $58,000 lower than 2002, Helget pointed out. He hopes that the increase in aid from the state is the beginning of an upward trend.
In 2005, the city expects its other revenue sources to increase nearly $19,000 from 2004. These increases include: contract services to Paynesville Township ($73,600, up $2,100); police department ($59,200, $7,700); airport ($48,100, up $3,300); building permits and zoning fees ($32,600, up $7,100); administrative fines, parking tickets, and court fees ($23,000, up $9,000); and franchise fees for cable and garbage ($27,000, up $2,300). But the city's estimated revenues from interest is down $10,000 from 2004 and budgeted revenue from the motor vehicle department is down $1,000 from 2004.
Wages account for a large portion of the budget increase in 2005, with a total increase of $30,337 in wages throughout the city's departments.
The largest general fund increase was made to the police department, which has a budget of $325,354 in 2005, up $30,957 from 2004. Salary and insurance increases account for most of this ($15,361), along with a $5,000 increase for legal fees and a $3,500 increase for capital improvements.
Other spending increases in 2005 are budgeted for the general planning fund ($9,679), the administration fund ($8,351), the municipal building fund ($4,752), the motor vehicle fund ($4,050), the fire department ($4,115), and miscellaneous increases ($8,223).
---
Contact the author at editor@paynesvillepress.com • Return to News Menu
Home | Marketplace | Community
---