Barb and Steve Kotten have purchased Tuck's Cafe from Joyce and Tony Kotten, assuming ownership of the 85-year-old restaurant in November. Tuck's Cafe was founded in March 1921.

Barb and Steve Kotten first started working in the food industry doing catering at the Brainerd International Raceway in 1991. For the last six years, they have leased the kitchen at the Paynesville American Legion.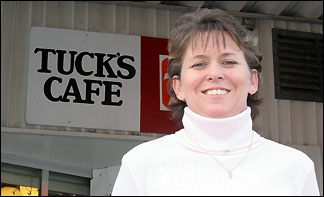 When they had a chance to buy the cafe from Joyce and Tony Kotten - Tony is Steve's nephew - this fall they took it. "It was an opportunity that jumped out at us, and we thought it'd be a nice change," said Barb.
Barb Kotten, along with her husband Steve, have purchased Tuck's Cafe in downtown Paynesville from Joyce and Tony Kotten, taking ownership in November. The cafe opened in Paynesville in March 1921.
So far, said Barb, changes have been minimal at the restaurant. They still have two full-time cooks and 17 total employees, including all five members of the Kotten family: Barb (full-time), Steve (who helps at the cafe when he can, in addition to working full-time at AMPI and helping his brother at Kotten Refrigeration), and their children Bryan (21), Jessica (a senior at PAHS), and Anna (a ninth grader at PAHS).
Barb said she is adding menu items gradually at Tuck's, including introducing one new evening special each month, while keeping the homemade soups, pies, cookies, and daily specials for which the cafe is known. She is also planning to redecorate the cafe in 2006.
The hours are the same: 6 a.m. to 7:30 p.m. on Tuesdays through Thursdays; 6 a.m. to 8 p.m. on Fridays and Saturdays; and 6 a.m. to 7 p.m. on Sundays. (The cafe will still be closed on Mondays.)
Next summer, said Barb, she may consider increasing the hours. Tuck's Cafe was founded in March 1921 by brothers Gerald and Louis Tucker, from whom it got its name. Joyce and Tony Kotten owned and operated it for six years.
So far, the adjustment to a downtown restaurant, from a more evening-based food business, has been smooth, said Barb. One challenge for her has been adjusting to the early morning hours, she said.
The food is similar, she added, but the atmosphere is different. "I love the people," she said. "I love being able to visit with the people. I know a lot of the people who come in, and I'm meeting the others." A weeklong open house - to meet the new owners - is being planned at Tuck's Cafe in early January with daily door prizes and daily specials.
---
Contact the author at editor@paynesvillepress.com • Return to News Menu
Home | Marketplace | Community
---