Stearns looks at sending garbage to Perham
This article submitted by Michael Jacobson on 12/27/00.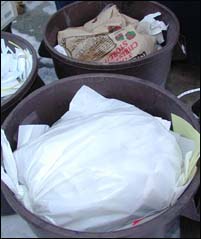 Garbage from western Stearns County may have to travel farther for disposal if a new county initiative takes effect.

Right now, the county Ð through the Tri-County Solid Waste Commission Ð has an agreement with an incinerator in Elk River. Much of the garbage in excess of the county's contract with the incinerator is being brought to a landfill in Elk River.

At a recent county commissioner's meeting, the commissioners tabled a decision about joining a venture to retrofit an incinerator in Perham.

Jeff Bertram of West Central Sanitation and several other haulers from the western portion of the county attended this meeting to discuss the proposal with the commissioners and state some concerns the haulers have over the price and logistics of the switch.

The proposed agreement would require Stearns County to provide 20 tons of garbage per day to Perham. This is about half of what is collected in western Stearns per day, and the equivalent of two garbage truckloads, said Bertram.

The existing Perham incinerator was shut down a couple years ago for emission violations. A plan to retrofit it depends on the participation of Stearns. Todd, Wadena, and Ottertail counties will participate, if Stearns does.

Stearns County is interested in joining the venture to keep disposal options open for the future. "Our disposal options are getting really, really limited," said Don Adams, director of Stearns County Environmental Services.

Intense safeguards make landfills rarer than ever, and existing capacity is being bought by large waste management companies, according to Adams.

Right now, the county has contracts with Elk River, but Adams warned, "Once that becomes the only game in town they can charge whatever they want."

"We do have options now, but the landfills are getting critically full," added Don Otte, the county commissioner who represents Paynesville.

Bertram said haulers in western Stearns are willing to help the county, but have concerns about the logistics of hauling garbage to Perham as well as the added costs involved.

Perham (125 miles) is nearly twice as far from Paynesville as Elk River (70 miles). One concern of the haulers is what the requirements will be for delivery. Will the county be allowed to bring 100 tons in a single shipment per week? Or will several trips be required?

Otte noted that one hauler was unhesitantly supportive of the proposal. "The rest have concerns, and rightly so," he said.

Tipping fees at Perham would be $49 per ton. The fees at Elk River are $68 for the incinerator and between $35 and $45 for the landfill. So taking garbage that would have gone to the landfill to Perham has extra transportation costs and higher disposal fees.

Bertram said that these added costs could force West Central Sanitation to raise the rates for its customers, something it hasn't done in nine years.

One concession he urged the county to try to negotiate for was a lower tipping fee at Perham to offset higher transportation costs from Stearns.

Bertram said the easiest thing for the haulers to do would have been to skip the meeting and simply increased their rates. Haulers want to look out for their customers, just like the county wants to look out for its constituents, he added.
---