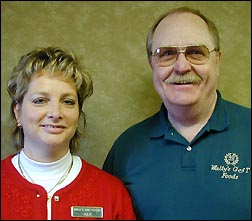 Wally's G&T of Paynesville has been sold and the new owners - Roger and Fred Theal of Cass Lake and David Nyberg of Cold Spring - will take over on Jan. 1, 2002.

New managers, but long-time employees, Julie Gruber and Bob Cole.

Collectively, the new owners have more than 100 years of grocery store experience. Fred Theal started as a youth in his dad's grocery store more than 50 years ago in Cass Lake. The men own five stores, four in central Minnesota and one in South Dakota.

With the new ownership comes a new name, Paynesville SuperValu. The store will also have new hours, expanding its hours to seven days a week from 7 a.m. to 10 p.m. The new hours will take effect on Wednesday, Jan. 2.

"We are looking forward to serving the Paynesville area," Nyberg said. Besides a new name and longer hours, the store will undergo a number of other changes, including the addition of a deli and a rearrangement of the aisles and shelving.

Wally Thyen, the outgoing owner, started at Fairway Foods in 1962, first as the manager for Elmo Gaspar, then as a partner with Gaspar, and finally as sole proprietor. "I've had a lot of loyal support from the community in my 39 and a half years in business," Thyen said.

The store had been a Fairway Foods grocery store for 50 years and switched over to SuperValu in December 1999.

Thyen will continue to work at the store three or four days a week. "I wanted to be free to spend more time with my grandchildren," Thyen said of the sale. He plans to help coach his grandson's traveling basketball team in January and his baseball team next summer.

Current employees Bob Cole will be the manager at the store and Julie Gruber will be the assistant manager.
---
Contact the author at paypress@lkdllink.net • Return to News Menu
Home | Marketplace | Community
---